Zillow: Fix Zoning to Improve Housing Affordability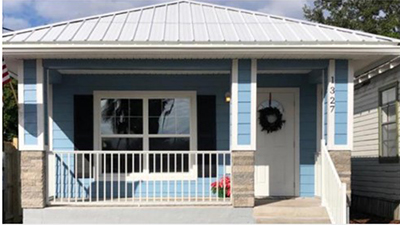 Zillow, Seattle, said relaxing zoning rules would rank among the best ways to address the nation's ongoing housing affordability crisis.
Nearly three-fourth of analysts in the Zillow Home Price Expectations Survey said zoning reform to allow more housing within existing neighborhoods and growing communities would be one of the most effective means to address affordability.
"It seems straightforward: we need to build more homes," said Skylar Olsen, Zillow Chief Economist. "Changes through policies like modest densification will give us more 'at bats' to create density and help communities stay livable for everyone. Without a huge injection of new homes in the near future, affordability will continue to be a challenge for many–especially for first-time home buyers."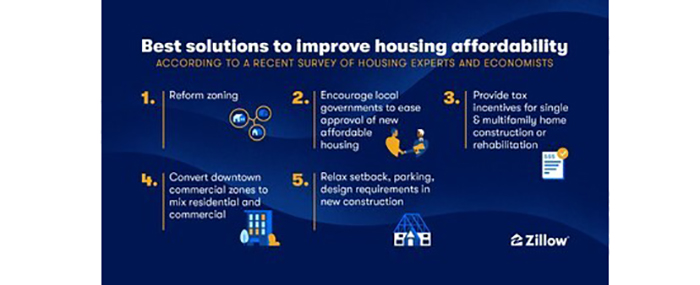 Housing affordability remains a defining feature of the U.S. housing market. The latest Zillow data found monthly mortgage costs are 46% higher than last January and $754 higher than before the pandemic in January 2020.
One key driver of the affordability crisis: a chronic shortage of new housing construction, which has not recovered from the Great Recession. This has resulted in a 3.79-million-unit gap in home production, according to Up for Growth, a think tank focused on addressing the country's housing shortage.
"Restrictive and exclusionary zoning, artificial barriers and NIMBY opposition have combined to create an unprecedented and persistent housing shortage," said Up for Growth CEO Mike Kingsella.
Kingsella noted failure to address these issues will create lower economic output and fewer opportunities for everyone. "Families and individuals will be forced to pay higher rents, the equity gap will widen and transportation costs will rise as people are forced to travel greater distances for work and education," he said.
Zillow asked panelists to select several policies they believe would improve housing affordability and to rank the policies by effectiveness. Changes to zoning ranked first, followed by encouraging governments to approve and build affordable housing more quickly. Other policy changes, such as converting downtown commercial zones to encourage more residential use, providing tax credits to incentivize new home construction and relaxing design requirements such as parking mandates, received modest support from the expert panel compared to zoning reform.
Last year, Zillow surveyed homeowners and renters nationwide and found overwhelming support for increasing housing density in existing neighborhoods. "Allowing even minimal density through zoning reforms–for example, allowing a percentage of single-family lots to house two units–would yield millions of new homes," the report said.
Terry Loebs, founder of Pulsenomics, Acton, Mass., noted there are no quick fixes for the housing affordability problem, "especially at a time when demand for entry-level homes far exceeds available inventory," he said. "Supply-side initiatives such as those recommended by this panel may not be easy to implement, but they will be the most effective means to durably improve homeownership affordability and market balance."