Black Knight: Seriously Delinquent Mortgages Tumble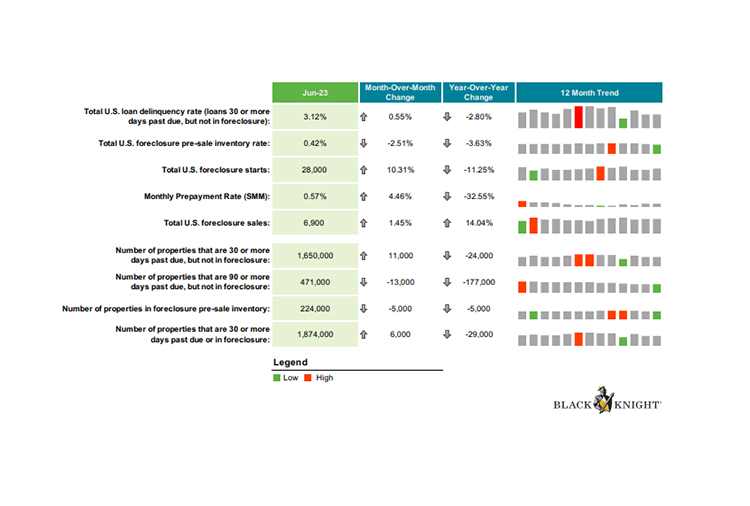 (Image Courtesy Black Knight)
In its "first look" release of June mortgage performance statistics, Black Knight, Jacksonville, Fla., found that seriously delinquent mortgages hit the lowest level in more than 15 years.
Serious delinquencies for the month were at just 471,000, the lowest level since August 2006. It's also a significant improvement from June 2022, with a drop of 27%.
The total U.S. delinquency rate is at 3.12%, up slightly (0.55%) from May, but down 2.8% year-over-year.
Early stage delinquencies, defined as 30 days late, increased by 2.2%. Borrowers 60 days past due were up 1.7%.
Foreclosures were also slightly up, hovering 1% over the past year's average, but still 38% below the pre-pandemic level. Foreclosure was started on 5.8% of serious delinquencies. While that's up from May's 5.1% rate, it's still also lower than pre-pandemic starts.
Loans in active foreclosure remain 17% below March 2020. But, foreclosure sales were up slightly (1.5%) from May.
The top five states by noncurrent percentage were Mississippi (7.4%), Louisiana (6.84%), Alabama (5.31%), Pennsylvania (4.85%) and West Virginia (4.84%).
The bottom five states by noncurrent percentage were Montana (2.15%), Oregon (2.1%), Idaho (2.03%), Colorado (1.94%) and Washington (1.94%).