(IMB23) Mortgage Market Outlook: Volatility, Trending Toward Stability
MBA Chief Economist Mike Fratantoni speaks at MBA Independent Mortgage Bankers Conference on Tuesday.
CORONADO, Calif.—Inflation. Higher interest rates. Rising home prices. Market uncertainty. If 2022 threw independent mortgage bankers a curve ball, 2023 already appears to be tossing a knuckleball.
"We are still in an environment in which much of the data are fragile," said MBA Chief Economist Mike Fratantoni, speaking here Tuesday at the MBA Independent Mortgage Bankers Conference & Expo. "But we also starting to see gradual signs of greater stability."
The Federal Open Market Committee is expected to raise the federal funds rate to nearly 5 percent by the end of 2023—capping a remarkable period in which the FOMC has raised the rate at a sharp pace over a short period. "There's a reason for that, but it's also one of the biggest reasons why we are experiencing so much economic volatility right now," Fratantoni said.
The Consumer Price Index, which measures inflation, has become the single-most important measure of economics in the past year. "You don't stop until inflation has been defeated and drilled into the ground," Fratantoni said. "The challenge for the Fed is to when to stop, so they don't over-correct."
The second goal of the Fed, as mandated by Congress, is to promote job growth—and as of December, the unemployment rate, at 3.5 percent, has largely recovered from the coronavirus pandemic.
"We are starting to see some volatility in the job market and we expect the rate to increase as we move through a mild recession this year," Fratantoni said. "We're moving from historically strong job market to a weaker job market—but not as bad as in the past."
The housing market possesses strength in its own way—household savings reached a record high during the pandemic, "in part because they couldn't get out to spend," Fratantoni said. "We're starting to see those historically high savings levels start to drop as households start to spend more money, but we'll have to see what the current economic volatility does for that."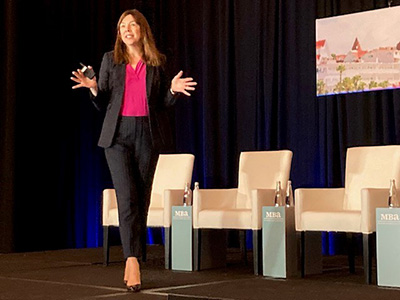 The Fed is expected to rise rates modestly in February (25 basis points), Fratantoni said, but it likely won't begin to move the federal fund rate lower than 5 percent until after it feels it has beaten inflation.
For the mortgage market, Fratantoni said, the refinance market is essentially done; the purchase market is a different story. "The most important determinant of purchase activity is the Millennial Generation," he said. "This is why we are consistently optimistic about the purchase market and housing demand over the next four-to-five years."
Beyond that, Fratantoni cautioned, the picture changes. "The next generation is smaller than the Millennials, and the U.S. birth rate is projected to drop over the next decade," he said. "Babies don't buy houses—they need to age a couple of decades."
Despite that, "We're not building enough homes," Fratantoni said. "We're already seeing supply constraints. If we don't start building more homes, the problem is only going to get worse."
Homeowners currently enjoy nearly $30 trillion in equity; but they're not putting their homes up for sale at the pace needed, either, Fratantoni said. "We think transaction volume is going to fall in 2023 because a lot of homeowners have no real incentive to sell.
MBA Vice President of Industry Analysis Marina Walsh, CMB, noted over the past several years, IMBs have increasingly gotten into mortgage servicing, grabbing market share from big banks that have, in turn, reduced or ended their servicing business.
"The banks have really ceded most of the government business to the people here in the room—the independent mortgage bankers," Walsh said.
The bad news: The MBA quarterly Mortgage Performance Report suggests mortgage profits will be challenging for IMBs for at least the next two quarters. The good news, Walsh said: "some mortgage servicers are going through hell but still eking out a profit….those who are hurting are really hurting, but others are getting through these difficult times."