Industry Briefs, Jan. 18, 2023: Inflation's Impact on Small Businesses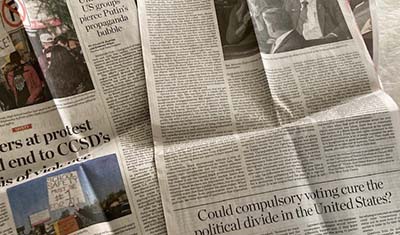 Study Measures Inflation's Impact on Small Businesses
Biz2Credit, New York, announced findings of its Small Business Inflation Study that analyzed the revenues and expenditures of more than 140,000 U.S. small businesses from January 2019 to October 2022.
The study found in the pre-vaccination COVID phase, average monthly expenditure by small businesses fell by 21%, from nearly $14,000 in 2020-Q1 to just under $11,000 in 2020-Q3. In the post-vaccination recovery (Q1 through Q3 2022), a period of high inflation, small business encountered severe cash flow pressures while trying to maintain business activity at higher post-vaccination recovery levels. Thus, dollars per expenditure fell 12%, while the number of transactions rose by 9%, offsetting the fall in the former. This change in behavior reflected the need to control cash outflows by restraining individual cash outflows during a high inflation period.
The study said during the period of highest inflation, the average monthly expenditure of small businesses fell by 5%, from $11,401 in Q1 2022 to $10,884 in Q3 2022. As inflation accelerated, consumers were also increasingly stressed by rising prices. In the post-vaccination recovery, revenue increases outpaced inflation, but by Q2 2022, revenue growth fell below the rate of quarterly inflation.
"Unfortunately, the spike in prices came just as the economy was recovering from the initial waves of the pandemic and created a new set of challenges for small businesses. Many of them are still hurting," said Rohit Arora, CEO of Biz2Credit.
Inflation during the post-vaccination COVID period led to significant changes in small business activity. In 2023, there is considerable uncertainty remains related to continued inflation, additional spikes in gasoline prices, further increases in interest rates by the Federal Reserve, and weaker economic growth.
Dallas, Austin Top Nation's Largest Hubs for Access to Urban Lifestyles
StorageCafe, Santa Barbara, Calif., said Dallas is tops in terms of downtown living, closely followed by Austin, based on a combination of metrics delving into cost of living, apartment options, entertainment, safety and other desirable urban features.
The report said nearly half of the top 10 best places for downtown living are in the South, with three representing Texas (Dallas, Austin, Houston).
To help decide which vibrant downtown areas offer the best combination of apartment options and amenities balanced by cost, the study selected the 30 most populous cities in the U.S. We then ranked their central areas against a wide variety of factors such as cost of living (rent-to-income ratio, cost of groceries), rental inventory, apartment amenities (personal space, green units, unit quality, access to workout facilities), safety, restaurants, cultural and shopping options and more. Self storage was also included in its analysis as it's a service frequently used by apartment dwellers as they move or afterwards as they seek to maximize living space.
The top 10 cities ranked are Dallas, Austin, Chicago, Boston, Seattle, Nashville, Houston, Columbus, San Diego and Phoenix.
Fannie Mae: Annual Home Price Growth Decelerates in Q4 to 9.2 Percent
Fannie Mae, Washington, D.C., said single-family home prices increased at a non-seasonally adjusted annual rate of 9.2 percent in the fourth quarter from a year ago
The Fannie Mae Home Price Index said on a quarterly basis, home prices rose a seasonally adjusted 0.2 percent in Q4 2022, just above the 0.1 percent growth seen last quarter. On a non-seasonally adjusted basis, home prices declined by 1.0 percent in Q4 2022.
"The rise in mortgage rates over the past year and record inflation have constrained the purchasing power of prospective homebuyers," said Mark Palim, Fannie Mae Vice President and Deputy Chief Economist. "The resulting affordability pressures are evident in the home price declines of the past two quarters, along with the downturn in homes sales. The rise in rates also exacerbates the 'lock-in effect' in which existing homeowners who have rates well below current market rates have a financial disincentive to give up their current mortgage and purchase a different home at a higher mortgage rate, thereby reducing the supply of homes available for sale. We believe that a key factor that will impact home prices in 2023 is how the tension between a reduced supply of homes available for sale and lower mortgage demand is resolved."
TMC Emerging Technology Fund LP Invests in TRAiNED
The Mortgage Collaborative, San Diego, announced the TMC Emerging Technology Fund LP recently participated in a $1 million Simple Agreement for Future Equity (SAFE) funding round for TRAiNED Inc.
TRAiNED was founded in December 2021 with a mission to reduce costs, increase efficiency and even out the boom-and-bust cycles in the mortgage industry. Its flagship product, Mortgage Origination Responsible Intelligence is designed to be a self-service system for automating steps within the labor-intensive mortgage origination workflow. The system leverages artificial intelligence and machine learning data models in a secure environment to process documents and generate normalized and valid data for return to the lender's loan origination system.
TRAiNED is a partnership among enterprise-level AI company Inpleo, mid-sized independent mortgage lender Success Mortgage Partners and Freed, a former owner of a mid-sized independent mortgage lender and operating partner of TMC's Emerging Tech Fund.
Indecomm Expands eRecording Capability to 1,900+ Jurisdictions
Indecomm, Edison, N.J., added its eRecording services to 1,900 jurisdictions, enabling more efficient, traceable and timely document recording for its lenders and title company clients.
By enhancing its eRecording capabilities, Indecomm drastically reduces document recording turnaround times. In some jurisdictions, Indecomm is processing documents in as little as 12 days. These accelerated turnaround times significantly reduce human error, lost documents and manual paper handling, which translate to on-time recordings and fewer recording fees and fines. Additionally, Indecomm's clients get the added benefit of fixed pricing, giving clients greater cost predictability.
Reggora Announces Custom Point of Sale Integration to Optimize Borrower Experience
Reggora, Boston, announced its order management platform can embed the borrower's appraisal experience into a lender's custom point of sale system.
Reggora improves the borrower's experience by resolving some of the most common issues that arise during the appraisal. This includes paying for the appraisal, scheduling the inspection, seeing the status, and more. Now, using Reggora's open API, lenders can bring all of these improvements directly into their proprietary POS.
Stewart Title Adds Operations in Central Ohio with Acquisition of Elite Family of Companies
Stewart Title, Houston, announced acquisition of Elite Land Title LLC, Aspen Land Title Agency LLC, and Citizens Land Title Agency LLC (together, the "Elite Family of Companies").
With locations in Columbus, Circleville and Dayton, the Elite Family of Companies have served customers across the state for more than two decades.
Redfin: Sales Slow to Kick Off New Year, But More Buyers Start Searching
Redfin, Seattle, reported homes are selling at their slowest pace since the housing market nearly ground to a halt at the beginning of the pandemic. The typical home sold during the four weeks ending January 8 was on the market for 44 days, the longest period since April 2020, contributing to the biggest annual inventory increase on record. Pending home sales dropped 32% year over year to their lowest level on record and mortgage-purchase applications dropped to their lowest level since 2014.
Redfin's Homebuyer Demand Index–a measure of tour requests and other buying services from Redfin agents–posted a 6% increase over the last month, and Google searches for "homes for sale" are on the rise. Some buyers are likely coming in from the sidelines because mortgage rates have dropped to 6.33% from their November peak of over 7%, saving the typical U.S. homebuyer roughly $250 on monthly housing payments.
Ginnie Mae MBS Portfolio Reaches $2.280 Trillion at End of 2022
Ginnie Mae, Washington, D.C., reported its mortgage-backed securities portfolio outstanding grew to $2.280 trillion in December, including $31.14 billion in total MBS issuance for December, leading to $19 billion of net growth and a new record end-of-year balance.
The December issuance includes $29.45 billion of Ginnie Mae II MBS and $1.69 billion of Ginnie Mae I MBS, including $1.57 billion in loans for multifamily housing. For the 2022 calendar year, Ginnie Mae supported the pooling and securitization of more than 730,000 first-time homebuyer loans.
Michigan Mortgage Lenders Association Rebrands
The Michigan Mortgage Lenders Association, Shelby Township, Mich., unveiled an updated logo and brand identity for 2023. The brand refresh aligns with the organization's new purpose and direction as the connection point, legislative voice and educational resource for Michigan's real estate finance economy.
In 2022, the MMLA added 270 individual members, 16 corporate partner companies and three chapter partners to its membership rolls.
Redfin Adds Energy Cost Estimates for U.S. Homes
Redfin, Seattle, added energy cost estimates for more than 85 million homes across the U.S. Through a partnership with energy software company WattBuy, consumers can now use Redfin to better understand the costs of living in a home, including utility bills that meaningfully contribute to a homeowner's total monthly costs.
Each eligible Redfin home detail page now displays an estimate for the home's monthly electricity usage, bill, and seasonal changes in electricity usage and cost. It also estimates how much homeowners could save on long-term energy costs by installing solar panels. The feature is located directly below Redfin's existing payment calculator, allowing buyers to better understand and compare financial costs between homes and helping homeowners discover whether investing in solar energy systems could result in long-term savings.
MAXEX: 2022 Loan Locks Up Sharply
MAXEX, Atlanta, issued its 2022 Market Report, finding investment property loan locks increased significantly.
The report said a year ago, 100% of investment property loan trade volume on the exchange was through the MAXEX Jumbo program. In December, 44% of investment property loan lock volume came from DSCR, 31% from MAXEX Jumbo Express, 20% from MAXEX Conforming and 5% from MAXEX Non-QM.
Fundingshield Partners with Milestones
Fundingshield LLC., Newport Beach, Calif., entered into a partnership to deliver its consumer wire fraud prevention technology to clients of Milestones.Ai, protecting homebuyers from real estate wire fraud.
FundingShield provides cyber-security risk management, fraud prevention and transaction closing automation tools to lenders and real estate firms to protect their closings. Milestones is a customer-for-life experience platform for buying, selling, moving and managing home ownership – provided to consumers by professionals in real estate, mortgage, insurance and title. The integrated and open platform creates private personalized client portals where agents can stay connected, educate, and create value.