Top National News Jan. 10, 2023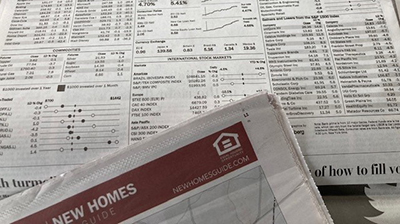 Here's a summary of Top National News Items from major news sites and industry trade publications. To get started, click on the headline above:
U.S. Supreme Court Rejects Investor Suits over Fannie Mae, Freddie Mac
Reuters, Jan. 9, 2023–Nate Raymond
The U.S. Supreme Court on Monday declined to again hear a multi-billion dollar case pursued by shareholders of Fannie Mae and Freddie Mac arising from the federal government's takeover of the mortgage finance firms during the 2008 financial crisis.
https://www.reuters.com/legal/us-supreme-court-rejects-investor-suits-over-fannie-mae-freddie-mac-2023-01-09/
A New Reality for GSE Loans: Better FICOs, Lower LTVs
Inside Mortgage Finance, Jan. 9, 2023–Andras Malatinszky
Lenders sold $129.5 billion of purchase loans to the GSEs in the fourth quarter, down 34.6% from the previous period. About two-thirds of that volume went to elite borrowers, with credit scores of 740 or higher, a share unchanged since the third quarter.
https://www.insidemortgagefinance.com/articles/226676-a-new-reality-for-gse-loans-better-ficos-lower-ltvs?v=preview
Mortgage Lenders: The 2023 Purchase Market Is Your Moment
Forbes, Jan. 9, 2023–Joe Welu
The author, CEO and founder of Total Expert, says it's time for mortgage lenders to stop comparing 2022 volume and 2023 projections to the refinance-fueled record fundings of 2020 and 2021.
https://www.forbes.com/sites/forbestechcouncil/2023/01/09/mortgage-lenders-the-2023-purchase-market-is-your-moment/?sh=22d3a258574e
Servicing Prices are Likely to be Flatter in 2023
National Mortgage News, Jan. 9, 2023–Bonnie Sinnock (subscription)
Prices for mortgage servicing rights may have picked up compared to where they were during the typical December slowdown, but investors may find them more favorable than they did during the earlier in 2022.
https://www.nationalmortgagenews.com/news/servicing-prices-are-likely-to-be-flatter-in-2023?
Rocket Mortgage Affiliate Restructures Marketing Team, Imposes Layoffs
HousingWire, Jan. 9, 2023
The professional services company affiliated with Rocket Mortgage has restructured its marketing team, resulting in about 20 layoffs.
https://www.housingwire.com/articles/rocket-restructures-marketing-team-imposes-layoffs/
Top Office Owners Don't Want to Own Only Office Buildings Anymore
Wall Street Journal, Jan. 10, 2023–Peter Grant (subscription)
Many of the most prominent office developers in the U.S. are shifting gears, looking to buy or build real estate that isn't office.
https://www.wsj.com/articles/top-office-owners-dont-want-to-own-only-office-buildings-anymore-11673321605?mod=hp_lead_pos13
Spearheading the Tech Revolution in Mortgages
Mortgage Professional America, Jan. 9, 2023–Richard Torne
According to a recent survey by fintech Finastra, a whopping 81% of consumers, who represent an increasingly tech-savvy and digitally dependent generation, now expect an option to electronically sign loan documents. It's no surprise then that eMortgages are increasingly the norm across the US.
https://www.mpamag.com/us/specialty/technology/spearheading-the-tech-revolution-in-mortgages/432193
Rental Housing Is Suddenly Headed Toward a Hard Landing
Bloomberg, Jan. 9, 2023–Conor Sen
For most of the past year, investment risk in the housing market has been focused on the for-sale segment. That was largely because the huge run-up in home prices during the pandemic led to a mentality of "what goes up must come down," coupled with long memories of the housing bust in the late 2000s. But the data we've gotten over the past several months suggest that it's the rental part of the housing market that's setting up for a hard landing.
https://www.bloomberg.com/opinion/articles/2023-01-09/rental-housing-is-suddenly-headed-toward-a-hard-landing?srnd=premium&leadSource=uverify%20wall
The Year-End 2022: Caution Ahead for CRE Finance
Trepp, Commercial Real Estate Direct, Jan. 9, 2023
Trepp and Commercial Real Estate Direct's review of the data and stories from 2022 finds signs of caution ahead for the CRE finance and CMBS markets.
https://www.trepp.com/trepp-cre-direct-year-end-magazine-2022?
After a Rough 2022, Publicly Traded REITs Look to Rebound
Wealth Management Real Estate, Jan. 9, 2023–David Bodamer
Higher interest rates and a potential recession may already be priced into real estate investment trust stocks and strong balance sheets have them positioned to weather any coming storms. https://www.wealthmanagement.com/reits/after-rough-2022-publicly-traded-reits-look-rebound?