Colliers: Real Estate Market Should Start Stabilizing in Mid-2023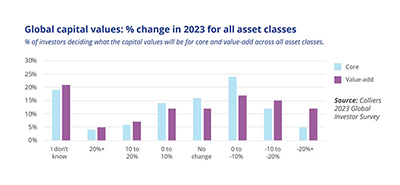 (Courtesy Colliers, Toronto.)
The global real estate market should start to stabilize by mid-2023, said Colliers, Toronto.
"Real estate markets offer a solid, long-term investment and income stream once pricing levels are clearer," said Tony Horrell, Head of Global Capital Markets with Colliers. He noted local events and macroeconomic factors could still disrupt positive momentum and said investors should prepare for "regression before progression" in markets that remain susceptible to further shocks.
"We anticipate investment activity to pick up as central banks end rate hikes and greater economic certainty emerges," Horrell said in Colliers' Global Investor Outlook. "In the meantime, investors will remain on the lookout for bargains, with significant funds being drawn up to act."

Last week the Mortgage Bankers Association released its 2023 Commercial Real Estate Finance Outlook Survey, which included a similar forecast. "Leaders of top commercial real estate finance firms believe that overall uncertainty will dissipate over the course of the year, but with a host of factors that will drag–rather than boost–the markets in 2023," said Jamie Woodwell, MBA Head of Commercial Real Estate Research.
Detailed CREF Outlook Survey results are available to MBA members at www.mba.org/crefresearch.
Colliers said it expects capital values to continue to be negatively affected by the transition to higher interest rates, causing some distress in 2023 especially for non-core assets. Opportunistic fundraising in increasing, indicating a focus on finding "pockets of opportunity" during the current reset, including:
–Closed-ended real estate funds reaching their termination dates.
–Investors that may be caught short when it comes to re-financing. Creative routes to market in the debt space as more investors explore solutions like mezzanine debt, bridge loans and project finance.
–Listed funds like REITS and developers that continue to trade at discounts to net asset value, creating opportunities to acquire bonds and convert to equity, place capital into existing structures or in some cases privatize.
More broadly, environmental, social and governance criteria remain a key factor in investor decision making, Colliers noted.
"In response to occupier preferences, growing regulatory requirements and the rising cost of operating assets, investors are rethinking value and placing a greater emphasis on a range of ESG factors," said Damian Harrington, Colliers Head of Research for Global Capital Markets. "There is both an expectation and greater evidence that assets with strong sustainability characteristics can command a premium and those that don't will be heavily discounted. It will be interesting to see just how capital is distributed across the capital stack in terms of refinancing, the retrofitting of assets, new construction, or divestitures."