Home Prices Slow for 10th Straight Month
Home price appreciation slowed for the 10th straight month, according to reports from S&P Down Jones Indices and the Federal Housing Finance Agency.
The S&P CoreLogic Case-Shiller National Home Price NSA Index reported a 2.0% annual gain in February, down from 3.7% in the previous month. The 10-City Composite reported an 0.4% increase, down from 2.5% in January. The 20-City Composite posted a 0.4% year-over-year gain, down from 2.6% in the previous month.
Miami led with a 10.8% year-over-year price increase, followed by Tampa at 7.7% and Atlanta in third at 6.6%. All 20 cities reported lower prices in the year ending February from January.
Month over month, before seasonal adjustment, the National Index posted an 0.2% increase in February, while the 10-City and 20-City Composites posted increases of 0.3% and 0.2%, respectively. After seasonal adjustment, the National Index posted a month-over-month increase of 0.2%, while both the 10-City and 20-City Composites posted increases of 0.1%.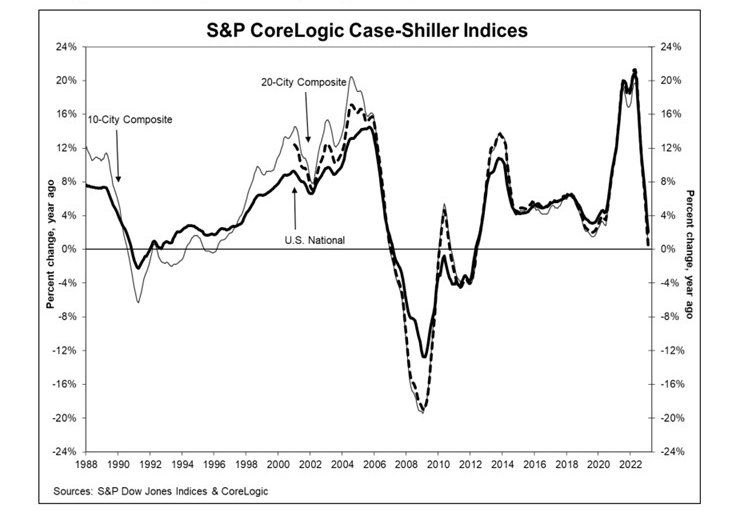 "The results released today pre-date the disruptions in the commercial banking industry which began in early March," said Craig J. Lazzara, Managing Director with S&P DJI "Although forecasts are mixed, so far the Federal Reserve seems focused on its inflation-reduction targets, which suggests that interest rates may remain elevated, at least in the near-term. Mortgage financing and the prospect of economic weakness are therefore likely to remain a headwind for housing prices for at least the next several months."
Selma Hepp, Chief Economist with CoreLogic, Irvine, Calif., noted February marked the slowest gain since the summer of 2012. "Nevertheless, compared to January, the index posted a first monthly gain in February, after seven months of decline, suggesting that home prices nationally have bottomed out," she said. "Even in markets with the largest price drops since last year's peaks, such as San Francisco, home prices picked up pace in February. Still, the housing markets continue to vary across markets and price tiers, but lower mortgage rates and low inventories have been helpful in providing the floor for prices in markets where prices seemed to have nosedived following mortgage rate surge."
In a separate report, FHFA reported house prices rose in February, up 0.5 percent from January; from a year ago, prices rose 4.0 percent. For the nine census divisions, seasonally adjusted monthly price changes from January to February ranged from -0.4 percent in the South Atlantic division to +2.3 percent in the East South Central division. The 12-month changes were -2.7 percent in the Pacific division to +8.3 percent in the East South Central division.
"U.S. house prices increased slightly in February," said Nataliya Polkovnichenko, Supervisory Economist, in FHFA's Division of Research and Statistics. "This increase was, in part, due to a decline in mortgage rates by more than half a percentage point from the peak reached in early November as well as historically low housing inventory."