Inflation Slows to 5% as Energy Prices Tumble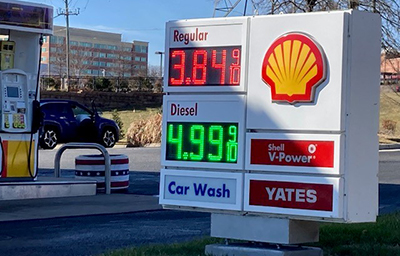 The Consumer Price Index continued its slowing trend in March, rising by just 0.1 percent from February and by 5 percent from a year ago, the Bureau of Labor Statistics reported Wednesday.
Energy prices took a tumble, falling by 3.5 percent in March from February, but increases in shelter more than offset that, rising by 5.6 percent.
BLS reported the CPI for All Urban Consumers (rose 0.1 percent in March on a seasonally adjusted basis, after increasing 0.4 percent in February. Over the past 12 months, the all-items index increased by 5.0 percent before seasonal adjustment.
The food index was unchanged in March with the food at home index falling 0.3 percent. The index for all items less food and energy rose 0.4 percent in March, after rising 0.5 percent in February. Indexes which increased in March include shelter, motor vehicle insurance, airline fares, household furnishings and operations and new vehicles. The index for medical care and the index for used cars and trucks were among those that decreased over the month.
The all-items index increased 5.0 percent for the 12 months ending March; this was the smallest 12-month increase since the period ending May 2021. The all-items less food and energy index rose 5.6 percent over the past 12 months. The energy index decreased 6.4 percent for the 12 months ending March, while the food index increased 8.5 percent over the past year.
"For the inflation optimists out there, the March CPI report delivered good news with total prices rising by the smallest amount in nine months and hints that core services inflation is starting to moderate," said Sarah House, Senior Economist with Wells Fargo Economics, Charlotte, N.C. "However, for the inflation pessimists, the latest CPI report shows the recent underlying trend in price growth remains far too high, with the core CPI increasing at more than a 5% annualized pace the past three months."
House noted core consumer prices continue to grow much faster than the Federal Reserve's target, "but we believe slower inflation is coming in the months ahead as the economy cools and finds better balance in a post-pandemic world. We do not think today's report materially changes the outlook for U.S. monetary policy. We still expect a 25 bps rate hike from the FOMC at the conclusion of its next meeting on May 3. Past May, the outlook is increasingly uncertain, but we think the most likely outcome is for the FOMC to keep the federal funds rate steady for an extended period."