MBA's Battany Urges Senate to Increase RHS Funding for Housing, Technology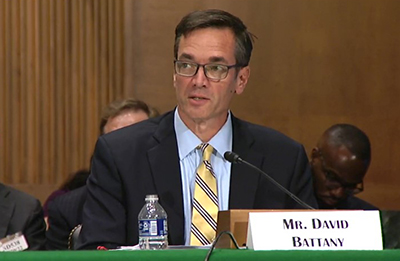 (David Battany testifies Sept. 20 on behalf of MBA before Senate Banking Subcommittee on Housing, Transportation and Community Development.)
David Battany, Co-Chair of the MBA Affordable Homeownership Advisory Council, told members of a Senate Banking subcommittee that policymakers can advance rural housing lending by addressing three areas: better workflow; better technology; and better loan products.
"MBA supports ensuring RHS programs are appropriately targeted, accessible to borrowers and deliverable for lenders," said Battany, Executive Vice President of Capital Markets with Guild Mortgage, San Diego, a top-five rural lender in numerous states, and a member of the MBA Residential Board of Governors, before the Senate Banking Subcommittee on Housing, Transportation and Community Development.
Battany, who grew up in rural Colorado, said the rural market is constrained by its very nature with limited housing supply, much of which is aging single-family housing. However, he said rural residents do have available to them to varying degrees the same housing finance options available to other borrowers in addition to RHS programs, including options offered by Fannie Mae, Freddie Mac, the Federal Housing Administration and the Department of Veterans Affairs, as well as loans offered without government backing.
Battany noted RHS home loans are offered by a wide variety of mortgage lenders – from independent mortgage banks (which issued 73% of such loans in 2021), to depository institutions, including community banks and credit unions – throughout the country. Although small relative to the scale of the multi-trillion-dollar mortgage market, RHS loans are meaningful lifelines to economic security for the individuals they help and the communities they bolster.
Battany expressed concern that in 2021, according to MBA, the mortgage industry originated $1.8 trillion in new loans and refinanced $2.5 trillion. In that same year, the total volume of USDA/Farm Service Agency loans was 114,524 loans—just 0.49% of all loan volume. The total amount of Section 502 Guaranteed Single-Family Housing Loans obligated was $448 million in Minnesota and $170 million in South Dakota. The average loan size was $180,000, less than half the national average for a conventional loan.
"It is imperative to be mindful of this small market share and smaller loan size when discussing any potential reforms and proposals that might further restrict lending or impose additional costs on service delivery," Battany said.
Battany commended RHS on its new proposed rule to implement a provision of the Housing Opportunity Through Modernization Act, enacted in 2016, to enable the Secretary of Agriculture to delegate approval authority to "Preferred Lenders."
"USDA currently does not delegate approval authority to lenders in this manner," Battany said. "This is a major barrier to more robust lender participation and puts RHS out of alignment with the processes available in FHA and VA lending. The existing processes require a conditional commitment from USDA staff, and while such commitments are rarely denied, there are instances in which delays in receiving such commitments can cause problems for borrowers and lenders. Market participants have noted that, in some cases, these delays can extend as long as ten days. In such cases, borrowers often have missed their closing dates, causing significant problems with their transactions."
Battany urged USDA to move forward with a more comprehensive set of process updates that provide full delegation to approved lenders. "This overdue change would accelerate approval processing timeframes to the benefit of applicants and bring USDA into closer alignment with FHA and VA practices," he said.
Battany observed delays in closing can be a "deal-killer" for financing multi-family properties, as well. Apartments and buildings for workforce housing require a combination of debt, tax credits, and equity financing that must come together quickly or they will be applied to other deals.
"One MBA member, for example, relayed to me that he was unable to close apartment projects in Tennessee and Texas because of months' long delays waiting for a response from RHS," Battany said. "The RHS staff has shown a commitment to fostering strong relationships with lenders and servicers throughout the industry. Improvements could be made, however, in the ability of lenders and servicers to get timely clarification on program guidelines when contacting RHS representatives, as well as making policy changes and guideline updates more readily accessible."
Battany noted the aging technological infrastructure supporting the backbone of RHS operations is widely acknowledged as outdated and in need of substantial upgrades, with many RHS systems in place less advanced than those used by several other government housing agencies, Fannie Mae and Freddie Mac or most lenders.
"Dedicated resources are needed to ensure RHS can keep pace with changes in the market, evolving data security threats, and changes in the ways in which mortgage loans are originated and serviced," Battany said.
Battany said much of the technology focus for RHS is centered on its Guaranteed Underwriting System. While use of an automated underwriting system decreases time-consuming and expensive manual file reviews, improves performance monitoring, and reduces program risk, under the current design, RHS imposes limits on the number of "runs" a lender can make for each borrower, making it difficult for a lender to perform pre-qualifications without exceeding the maximum limit. More broadly, updated technological infrastructure is needed to ensure the secure operations of RHS programs.
"MBA believes that USDA and Congress should provide sufficient funding for RHS technology upgrades through the annual appropriations process and ensure adequate oversight of information technology modernization efforts," Battany said. "RHS should also update its interfaces for the remittance of annual fees from lenders for RHS products to create an efficient, automated, and secure integration between the USDA and servicers' systems. Today, servicers must manually review and submit payments of annual fees – a process which is cumbersome and outdated."
Battany also encouraged USDA to engage in and leverage the Mortgage Industry Standards Maintenance Organization's industry standards setting process in support of its modernization initiatives. "Using MISMO standards helps eliminate friction and bifurcation across the industry by creating consistency in loan data and loan processes," he said.
Additionally, Battany said once the capacity to serve rural borrowers is improved, various RHS loan parameters could be reviewed to ensure they are not unduly restricting access to credit or responsible use of RHS offerings. For example, the RHS debt-to-income limits, for example, are far more stringent than those associated with other types of government-backed lending. RHS requirements related to borrower reserves, borrower deposits, existing tradelines, qualifying income, and tax transcript history would benefit from sensible updates, as well.
"Congress and USDA also should collaborate to examine existing population limits on RHS loan eligibility to ensure the program's geographic parameters remain appropriate," Battany said. "RHS also could explore options for increasing the availability of financing for a variety of different types of housing types to match GSE standards. These options include loans secured by both new and existing manufactured housing throughout the country, as well as for accessory dwelling units. These housing types have benefitted from advances in technology and design that make them promising approaches to increase the supply of high-quality, affordable housing in rural communities."
Battany also addressed MBA concerns regarding Single-Family Housing Section 502 Direct Loans, saying Congress should ensure funds are provided in a timely manner to enable the program to serve borrowers throughout the entire year.
"In some instances, lenders have needed to hold a loan until additional funds are made available," Battany said. "Further, rural housing loan volume may be impacted by the 'subsidy recapture' imposed through the Direct Loan program. The government subsidy provided for these loans is subject to repayment when the property is sold. This creates a disincentive for those homeowners who are aware of it to sell a home, and for many others, a very unwelcome surprise if they do sell. An unresolved lien on a property can delay the loan closing and even stop a sale when a homeowner cannot repay the subsidy. I would encourage the Subcommittee to evaluate the utility of this lien repayment requirement, which if properly addressed could (in a small way) bolster the supply of affordable rural housing."
Additionally, Battany said borrowers in rural areas would be well served by greater access to remote online notarization, noting as the federal investment in broadband access reaches rural communities, they will be able to use a remote online notary in the loan closing process.
"Authority to perform RON, however, currently is limited to 41 states," Battany said. "I would encourage the Subcommittee members to support S.1625, the SECURE Notarization Act, introduced by Senators Warner (D-VA) and Cramer (R-ND), to help rural borrowers access a more reliable and timely mortgage closing process."
Also testifying before the subcommittee: Elizabeth Glidden, Deputy Executive Director of the Minnesota Housing Partnership; Marcia Erickson, CEO of GROW South Dakota; and Tonya Plummer, Director of Native American Housing Programs with Enterprise Community Partners.