#MBARMQA22: Focusing on the Weakest Links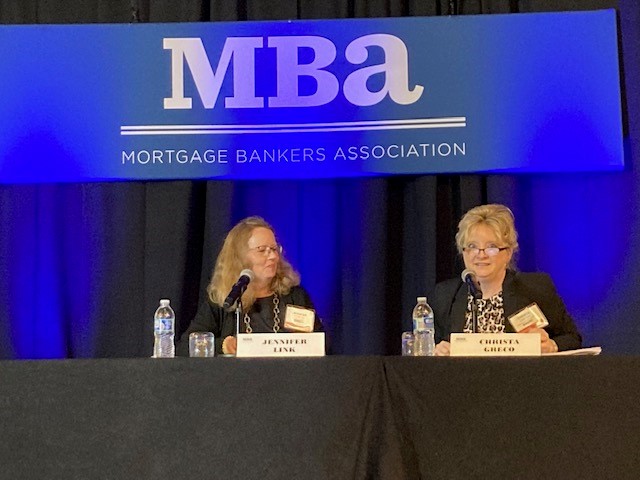 ((l-r) Jennifer Link of CMG Financial and Christa Lynn Greco of the FBI.)
NASHVILLE, TENN.—The housing market today is nothing like 2008, said Christa Lynn Greco, IA with the Criminal Investigative Division of the Federal Bureau of Investigation, Washington, D.C. But she said changing market conditions make the potential for mortgage fraud ever-present.
"The Bureau likes to focus on the weakest links," Greco said here at the MBA Risk Management, QA and Fraud Prevention Forum. "We try to understand the processes, so that we can determine points-of-entry—realtors, appraisers, loan officers, processors—they can be in a precarious situation when it comes to mortgage fraud; and they can also be the perpetrators…and with changing market conditions, we have a potentially large pool of potential victims."
Greco noted that while the FBI can be perceived as a reactive agency, she said the Bureau tries to stay as far ahead of fraud issues as possible. "Being proactive before a crime has occurred is difficult, but to be able to anticipate what is happening is critical. We enjoy the relationships we have with you and we value those relationships to help us anticipate trends."
Through August, the Bureau has seen more than 1,500 complaints—down from recent years, but still a significant number—with losses of nearly $21.5 billion. "And that's just from those who know how to report it to us," Greco said.
Loan origination fraud remains the most-investigated crime, followed by deed fraud, rescue frauds and elder fraud. "We've seen a lot of elderly people victimized by nationwide schemes," Greco said. "But we've also seen instances where elderly people have had their home sold out from under them or foreclosed on because someone falsified records."
In another case, Greco said, an FBI field office in Denver uncovered a scheme in which individuals identified vacant lots and stole identities to sell those lots, disappearing after the transaction completed.
Greco urged lenders to work with the FBI in addressing potential fraud. "Be as detailed as possible," she said. "It helps us gather information and work toward a resolution."