Colliers Finds Potential Inflection Point for CRE
Commercial real estate capital markets could be at an inflection point, said Colliers International, Toronto.
"Buyers and sellers are still adjusting to higher borrowing costs," Colliers said in its second quarter Capital Markets Snapshot. "Once the market settles, investors will be able to price the cost of debt more confidently. Persistent inflation, geopolitical risks and a slowing U.S. economy are headwinds investors are grappling with today. However, job growth has been resilient, supporting the potential for a soft landing economically."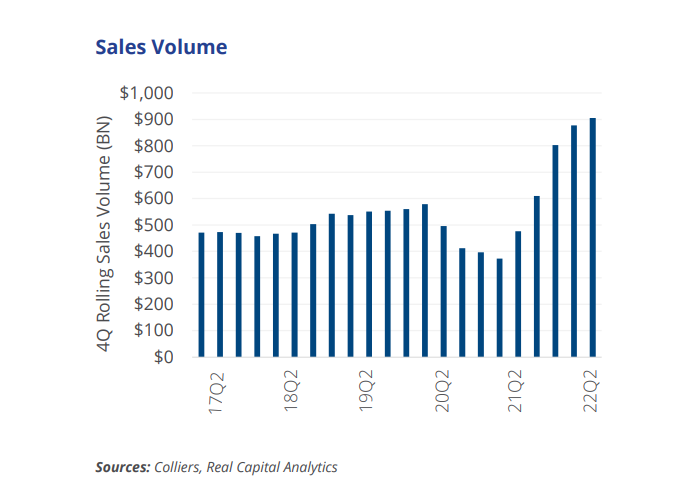 The report noted re-trades are becoming increasingly common as the cost of debt increases. "The Fed is walking a fine line in attempting to stabilize the job market while thwarting inflation," it said. "Due to higher capital costs, buyers have sought price discounts as debt pricing is now above going-in cap rates in many instances, creating negative leverage. Some buyers are re-trading for sport, knowing that sellers face uncertainty in restarting the marketing process on assets. The result is an environment of rising cap rates and reduced proceeds."
Capital remains plentiful, Colliers said. "Debt is readily available, as is equity capital. As a result, distress is not expected to be widespread, as the underlying fundamentals of the capital markets (i.e., underwriting standards) are vastly stronger today than during the Global Financial Crisis."
The report examined different property types, noting multifamily investment accounted for nearly half of all second quarter sales volume. "However, cap rates are adjusting, with borrowing costs now above going-in cap rates," Colliers said. "High homeownership costs and limited housing construction point to continued strong fundamentals for this asset class."
Office sales slipped again. Volume is now down 9% compared to a year ago and transactional cap rates are up slightly. Office price growth is also slowing, up just 1.4% in the quarter, beating only the hotel sector.
"Industrial sales volume remained strong through the second quarter," the report said. More than $35 billion in industrial properties changed hands between April and June, up 8% year-over-year–which was more modest growth than in recent quarters. "Low cap rates are making deals harder to pencil, and pricing is adjusting in real-time," Colliers said.
The retail sector saw the most sales growth, up 46% quarter-over-quarter. "[Retail] is also one of the only property types to post an increase in sales volume quarter-over-quarter," the report said. "These numbers are well ahead of pre-pandemic levels, indicating that interest in retail properties is back. In addition, going-in cap rates are higher, preventing some of the challenges facing industrial and multifamily."
Hotel sales volume cooled, Colliers said. Second-quarter volume decreased year-over-year and quarterly volume fell 23% from early 2022. "According to RCA's latest pricing series, hotel is the only asset class posting quarterly declines," the report said.