MBA Chart of the Week, Sept. 16, 2022: Home Purchase Applications by Loan Size
The housing market continues to face challenges from economic uncertainty, high home-price growth and volatile mortgage rates. MBA's Weekly Applications Survey data show that overall mortgage application activity continues to trend lower, as refinances have quickly dried up due to rates rising throughout the year and hitting the 6-percent mark for the first time since 2008. Rates – now double what they were a year ago – have also led to a pullback from potential homebuyers who face affordability hurdles or are delaying their decision to get into the market.
Purchase activity saw a recent peak in the second half of 2020 and experienced strong annual growth until June 2021, but have declined since then. As of August 2022, purchase applications were 20.4% lower than a year ago.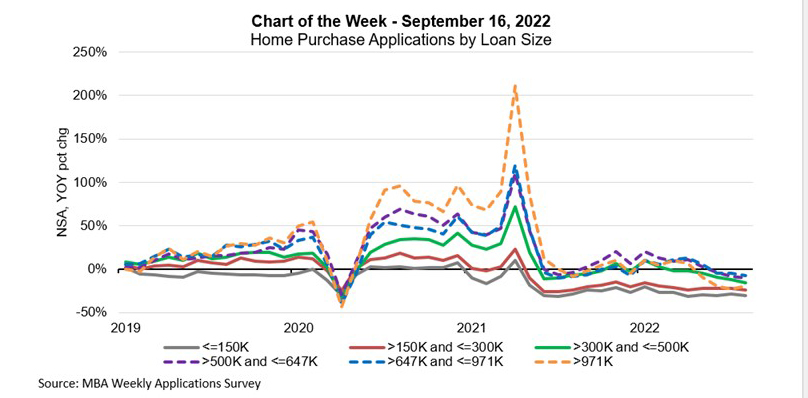 MBA's Chart of the Week takes a closer look at home purchase applications by loan size as of August. The two categories for purchase loan sizes below $300,000 have shown annual deceases since May 2021, as low inventories of for-sale homes, rapidly increasing home prices, and rising mortgage rates pushed many buyers out of the market for lower priced homes, including a portion of first-time home buyers. Applications for purchase loans $150,000 and lower were down 31%, and those between $150,000 and $300,000 were down 24%.
On the other end of the scale, applications for loans over $971,000 have seen declines of at least 20% for the past three months, as the cooling in demand from higher mortgage rates, greater stock market volatility, and subsequent discounting of the highest priced homes have impacted this segment. This segment led much of the growth in 2020 and 2021, when rates were significantly lower and the economy was much stronger.
The strongest segments of the market remain in the middle, for loan sizes between $300,000 and $971,000. While these categories have experienced an 8% to 16% contraction, they held up reasonably well through early 2022 until the recent increase in rates became more acute. This was likely supported by move-up buyers who had a previous home to sell and higher-end buyers who dropped down to less expensive homes.
Given this week's Consumer Price Index report, the Fed appears on track to raise the Fed Funds rate by 75 basis points in next week's meeting. Additionally, the Fed's efforts to reduce its balance sheet holdings continue to add to the volatility in mortgage rates.  
–Joel Kan jkan@mba.org