MBA Commends House Passage of VA Appraisal Modernization Legislation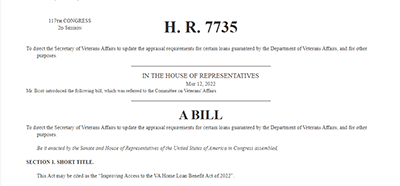 The House yesterday passed H.R. 7735, the Improving Access to the VA Home Loan Benefit Act of 2022. The Mortgage Bankers Association commended its passage.
"MBA is grateful to the House for passing with bipartisan support this commonsense bill to make VA home loan financing more accessible and affordable to our nation's servicemembers, veterans and their families by accelerating the updating of the Department of Veterans Affairs' rules and program guidelines that govern home appraisals," said MBA President & CEO Bob Broeksmit, CMB.
Broeksmit noted the bill will encourage important reforms to the agency's requirements regarding when an appraisal is necessary, how appraisals are conducted and who is eligible to conduct an appraisal. "This legislation is an important first step towards broad modernization of VA appraisal processes and could make veterans' home purchase offers more viable in today's competitive housing market," he said.
"We thank Representative Mike Bost, Ranking Member of the House Committee on Veterans' Affairs, for introducing H.R. 7735, Committee Chairman Mark Takano and House leadership for ensuring the bill received appropriate consideration in committee and on the House floor," Broeksmit said. "We appreciate the opportunity provided to Mark Jones, MBA Vice Chair, and CEO and Co-Founder of Amerifirst Home Mortgage, to testify in support of H.R. 7735 before the House Veterans' Affairs Subcommittee on Economic Opportunity."
Jones testified in support of the legislation in May. His full testimony is available here.
MBA urged the Senate to pass a companion measure, S. 4208, introduced by Sen. Dan Sullivan, R-Alaska, as swiftly as possible "to ensure active and retired servicemembers throughout the country have access to more affordable, sustainable homeownership opportunities."