MBA Education Path to Diversity Scholar Profile: Kimberly Phegley
(One of a continuing series of profiles of participants in the MBA Education Path to Diversity (P2D) Scholarship Program, which enables employees from diverse backgrounds to advance their professional growth and career development.)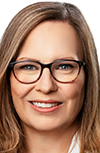 Kimberly Phegley joined FirstBank in 2017 and currently serves as the company's Chief Audit Executive. She is responsible for leading and managing an effective, risk-based audit strategy for all the bank's businesses and corporate functions.
Phegley's new role immerses her within the internal audit team and leaders across the bank. FirstBank's internal audit endeavors to provide independent assurance that the bank's risk management, governance, and internal controls are operating effectively, positioning the bank as a vital organization contributing to the community through customer service, employment, financial stability, community service, and donations. Prior to joining FirstBank in 2017, Phegley led internal audit at another organization for 13 years, giving her a total of 24 years of external and internal audit experience.
Phegley has a passion for serving the community and has consistently been involved with several organizations including her role as a board member of the Institute of Internal Auditors, the Nashville chapter president of Financial Executives International, Tennessee Society of CPAs, American Institute of Certified Public Accountants and Association of Certified Fraud Examiners.
Phegley and her husband Scot have considered the Middle Tennessee home since 1998. They have been married for 25 years and happily reside in Williamson County with their three children.
NEWSLINK: How did you learn about the MBA Path to Diversity Program?
KIMBERLY PHEGLEY: I first noticed the MBA Path to Diversity Program in MBA email communications. My supervisor encouraged me to apply when we were discussing development opportunities through MBA.
NEWSLINK: What inspired you to become more involved? Did a co-worker/supervisor/mentor encourage your participation?
PHEGLEY: Throughout my career, I have found involvement in professional organizations an excellent source of both educational and leadership development. Therefore, MBA was a natural source for development after I joined FirstBank Mortgage.
NEWSLINK: Did you find the application process to be user-friendly?
PHEGLEY: The application process was simple and straightforward. I encourage others to apply.
NEWSLINK: How has the Path to Diversity scholarship benefited you, personally and professionally? What have you been able to bring back to your company as a result of the Path to Diversity program?
PHEGLEY: Through the Path to Diversity scholarships, I was able to obtain more training, more quickly, which helped me have a more thorough understanding of the industry along with real-world applicability. This knowledge allowed me to quickly gain the trust and respect of leaders within the organization.
NEWSLNK: What would you say to someone considering applying for a Path to Diversity scholarship?
PHEGLEY: Continue growing, learning, and developing throughout your career. Your investment in yourself will serve you well.
***
About the MBA Path to Diversity Scholarship Program
The Path to Diversity Scholarship Program recognizes existing industry professionals who are seeking to advance their careers through continuing education. Recipients receive a voucher to cover course registration fees, up to a maximum of $2,000, for popular MBA Education courses and designation programs. This education opportunity enables employees from diverse backgrounds to advance their professional growth and career development.
MBA recognizes that a strong, responsible and sustainable real estate finance industry requires a workforce that is reflective of our society at large. For more information about the Path to Diversity Scholarship Program, click here.