Dealmaker: Sonnenblick-Eichner Arranges $82M in Key West
Sonnenblick-Eichner Co., Beverly Hills, Calif., arranged an $82.4 million fixed-rate first mortgage for the Ocean Key Resort & Spa in Key West, Fla.
Noble House Hotels & Resorts, Kirkland, Wash., refinanced the 100-room, full-service, waterfront resort.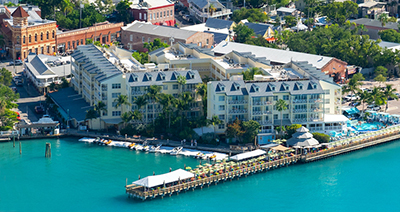 The five-year non-recourse loan priced in the low 5% range. The new financing defeased the existing loan and funded a $10.5 million property renovation. A life insurance company funded the full-term interest-only loan.
Amenities at Ocean Key Resort & Spa include a restaurant, an oceanfront pool with cabanas and a poolside bar and spa. The resort also includes Sunset Pier and the Sunset Pier Restaurant and Bar with views Gulf of Mexico views.
"The borrower decided to refinance an existing loan that was maturing in 2025 since the defeasance premium declined almost 74% since the beginning of the year," said Elliot Eichner, Principal with Sonnenblick-Eichner. "The life company execution coupled with the view that the cost of capital is likely to continue to increase in the future also factored into the decision to refinance at this time."
Patrick Brown, Principal of Sonnenblick-Eichner, noted multiple insurance company lenders expressed interest in providing the financing.