mPowering You: 'Get Out of Your Own Way'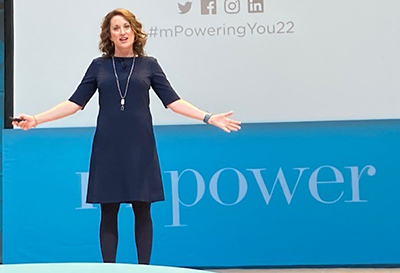 (Nicole Provonchee of Bright Blue Consulting speaks at the MBA mPowering You event in Nashville.)
NASHVILLE—All professionals face challenges in the workplace, but executive coach Nichole Provonchee says decades of research by academics and her own research shows women face specific challenges more often than their male counterparts.
"We all have things that prevent us from being what we want to be," said Provonchee, Chief Coaching Officer and Founder of Bright Blue Consulting, Nashville, here this weekend at mPowering You, MBA's Summit for Women in Real Estate Finance.
One of the reason people are reluctant to change is because it's hard to do. "We are used to our routines; we are r reluctant to change. We have habits that get in the way of what we want to do, and we have to commit to change."
Provonchee cited "the Disease to Please" that inhibits people, particularly women, from walking a clearer path. "It's a trap," she said. "It can overwhelm you, because you say 'yes,' too much. but women are conditioned at an early age to say 'yes,' even when they want to say 'no.' Inevitably, saying 'yes' to something means saying 'no' to something else—"usually yourself."
Provonchee said setting personal boundaries can help break the Disease to Please habit. When faced with this situation herself earlier in her career, she created a pre-set of rules, such as limiting business travel to five days per month, and only joining two non-work committees. "These rules help you set personal boundaries," she said. "Once you've established these boundaries, it becomes easier. And you can always adjust them."
"And don't be afraid to say "no," Provonchee added. "This is really difficult for women," she said. "But it's important to be able to learn not only how to say 'no,' but to mean it. Saying 'no in some cases means reprioritizing your life. Ask yourself: 'what story am I telling myself? What am I willing to sacrifice and for how long? What do I regret now? And what will I regret if I continue?' Ultimately, I realized how I could to things, but not necessarily at the same time."
Many women are uncomfortable self-promoting, Provonchee noted. "Many of you can talk about your team all day long, but you won't talk about yourself. Society wants us to be collaborative and team-building. So, we don't talk about ourselves. But we should be; it doesn't have to be one or another…You are your own brand. If you don't promote yourself, no one else will."
Provonchee urged people to create a "success list," consisting of a list of anything good that happens—positive feedback; client wins/saves; mistakes found/avoided; stretch goals set and met, etc.
"It's so easy to skip over the good things you've done when you have that one blemish that gnaws at you," Provonchee said. "Your success list is a daily reminder that you are doing good things–and that you and others need to hear that."
Provonchee urged participants to make a list of 10 positive things about themselves–and then share it with three friends. "If you struggle with self-promotion, this will be hard for you," she said. "If you can do this with three friends, then you can share it with others and become comfortable with promoting yourself."
And once you've figured out your edge, Provonchee said, you have to learn how to promote it. "Celebrating your wins creates positive emotion," she said. "This helps support a positive company culture."