#MBAAnnual22: Former Fed Vice Chair Roger Ferguson Reads the Tea Leaves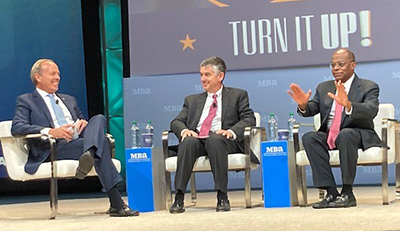 (Former Federal Reserve Vice Chair Roger Ferguson (r) with MBA President & CEO Bob Broeksmit, CMB, and MBA Chief Economist Mike Fratantoni.)
NASHVILLE—In the current volatile economic environment, former Federal Reserve Vice Chair Roger Ferguson said the best qualities in formulating economic policy are evenhandedness and empathy.
"When I served on the Fed, I listened to many voices, but I never assumed that anyone had the voice," Ferguson said here Tuesday at the Mortgage Bankers Association's Annual Convention & Expo. "Because the data can change in a moment, and that can have a stronger influence on a 25 basis point rate hike or a 50 basis point hike."
Ferguson said he expected the Federal Open Market Committee to continue to raise the federal funds rate for future meetings before taking a pause. "Then I expect them to hold for a while to see how things pan out," he said. "I expect a mild recession in early 2023."
Ferguson said he agreed with some critics that inflation took the Fed by surprise. "For more than a decade the Fed was wary of inflation being too low," he said. "I think there was a concern about a series of economic shocks and concerns about 2008 and the slow recovery. In hindsight, there were very sound reasons as to the perception that they were slow off mark."
But Ferguson said the Fed's effectiveness is based on its political independence. "I hope rate hikes are not considered to be political—a 25 basis point increase or a decrease is not partisan," he said. "That is not to say that 19 people will all sing the same song. In the coming months, the debate within the Fed will become stronger as members talk about the best strategy going forward."
Ferguson said he expects commercial real estate to evolve in different ways. "We all know about the challenges office space faces right now; the solution could end up with a very different look," he said. "Overall, we have to get used to the fact that money is not free, and by definition, the outlook in all of these segments are going to be very different. But by 2025, 2026, we'll be in a very different part of the cycle."
"We've been through these ups and downs before," Ferguson added. "We know how to lay low during the down cycle, then acting quickly when conditions change…there are opportunities in every crisis."
Ferguson noted diversity, equity and inclusion has come to the forefront of corporate culture; as head of TIAA-CREF, he led that group's move toward a more diverse and inclusive culture.
"We had to make better decisions," Ferguson said. "Diversity is inviting people to the dance; inclusion is asking the person to dance. We had to create a culture in which we weren't just bringing people to the table, we were getting them involved in every aspect of the business. There is no mystique about managing diversity—it's just good management."