MBA Opens Doors Foundation Announces 2022 Award Winners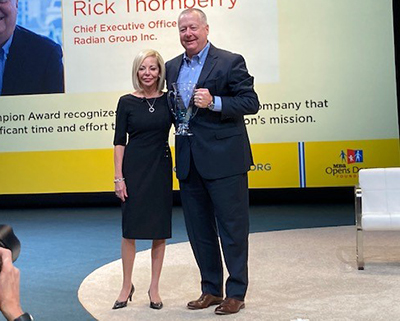 (MBA Opens Doors Foundation Chair Debra Still, CMB, presents ODF Community Champion Award to Rick Thornberry of Radian Group Inc.)
NASHVILLE – The MBA Opens Doors Foundation announced recipients of its annual awards, which recognize those who have made lasting contributions to advance the Foundation's mission of providing mortgage and rental assistance to families with critically ill or injured children.
The Foundation presented its annual Community Champion Award, the Founder's Award, and the Spirit Award during MBA's 2022 Annual Convention and Expo.
The 2022 Opens Doors Foundation award winners are:
Community Champion Award: Rick Thornberry, CEO of Radian Group Inc.
Founder's Award: Leonard and Mary Ryan, Founder, QuestSoft Corporation
Spirit Award: National Mortgage Insurance Corporation (National MI)
"Each year, we recognize individuals and organizations that truly embody the mission and goals of Opens Doors," said Debra W. Still, CMB, president and CEO of Pulte Financial Services and Chairman of the Foundation's Board of Directors. "This year's award winners have gone above and beyond for the Foundation's families, and I am thrilled to see their efforts and good work recognized."
The Community Champion Award, created in 2013, recognizes an individual, group, or company that has dedicated significant time and effort to advance the Foundation's mission, Rick Thornberry, CEO of Radian was chosen for his outstanding leadership and commitment to Opens Doors.
For more than 12 years, Radian has been the lead sponsor of Concert MBA, a benefit concert and auction for Opens Doors. The company and its employees have held numerous special campaigns to support Opens Doors and in 2019 committed $400,000 over four years to support bringing the Children's Hospital of Philadelphia into the Foundation's hospital network.
In 2020, when the Foundation saw a significant increase in the need for support, Radian stepped up its giving, donating an additional $50,000, on top of its more than $160,000 contributed through its Everyday Heroes Challenge. In 2021, Radian added $171,000 in donations, bringing its total giving to more than $800,000.
With his personal support of more than $50,000, Thornberry has demonstrated his enthusiastic support and commitment to the Foundation and the thousands of families that have been helped by Opens Doors.
The Founder's Award recognizes one or more individuals whose demonstrated action has occurred over a sustained period. Honorees exemplify the core values, spirit, and essence on which Opens Doors was founded.
As the founder of QuestSoft Corporation, a leading provider of compliance software and services for the real estate finance industry, which was purchased by Ncontracts in 2020, Len infused his and Mary's personal beliefs in giving back as individual and corporate donors to the Opens Doors' mission.
In 2020, the Ryans, through the Eagle Quest Charitable Fund, committed $500,000 over five years to Opens Doors, support that allowed the Foundation to create the Pandemic Relief Fund, which doubled the Foundation's support to families during the COVID-19 pandemic.
The Spirit Award recognizes a group of individuals, from one or more organizations, whose enthusiasm and support for Opens Doors brought new people and organizations to the Foundation's roster of supporters, and whose efforts amplified the impact the Foundation has on vulnerable families in America.
National MI is committed to supporting organizations and charities doing great work in communities across the country. In 2019, National MI conceived of a program that would tie its corporate performance to charitable giving to Opens Doors, establishing the $.20 for 20 Campaign, which gave Opens Doors $.20 for every new loan insured in 2020.
In 2021 and 2022, National MI continued its annual support with $.21 for 21 and $.22 for 22 campaigns, providing Opens Doors with a steady and consistent corporate donation that allowed the Foundation to expand its support during the pandemic and to continue to explore new ways of supporting families with critically ill or injured children today.
Since launching its annual campaigns, National MI has donated more than $121,000 to Opens Doors and helped to expand the Foundation's awareness and mission across its employee and customer bases.
"This year's award recipients have been crucial to furthering Opens Doors' mission and reach," said Deborah E. Dubois, president of MBA Opens Doors Foundation. "I am honored to work with such great individuals and companies who are dedicated to supporting families in need of assistance."
The Opens Doors Foundation, through its Home Grant Program, provides relief in a time of personal crisis. The Home Grant Program has become a critical part of a family's support structure, especially when a parent or guardian must take unpaid leave to be with a child. Grants of up to $2,500 are made monthly to families in need of mortgage or rental payment assistance.
For more information on Opens Doors' mission, please click here.