Institutional Real Estate Returns Shrink in Q3
The National Council of Real Estate Investment Fiduciaries reported institutional-quality commercial real estate returned 0.57% in the third quarter, down from 3.24% in the second quarter.
The quarterly return consisted of 0.93% from income and -0.37 percent from appreciation (after deducting capital expenditures)–the first negative appreciation return since second-quarter 2020. Market values before considering capital expenditures decreased by 0.09%, NCREIF said.
"The decline was due in part to a significant increase in the number of properties that had their values written down this quarter versus those that were written up," the NCREIF Property Index reported. "More than half the properties in the index were written down which also has not happened since the third quarter of 2020."
MBA Vice President of Commercial Real Estate Research Jamie Woodwell noted the market is just starting to digest the impacts of changes in the space, equity and debt markets and what they will mean for property values and performance in the coming months and quarters.
"It's still too early to know exactly how these changes will impact different properties but it is becoming ever more clear that–after a strong run of property incomes and value growth–higher mortgage rates and higher yields on other assets, as well as economic uncertainty, will impact commercial real estate markets as well," Woodwell said.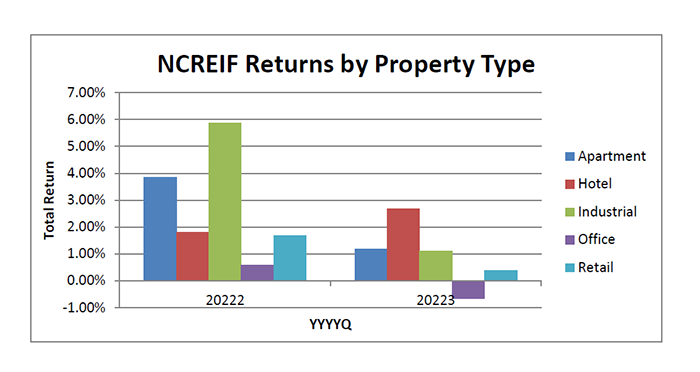 NCREIF noted the 0.57% return represented the unleveraged return for primarily "core" real estate held by institutional investors throughout the U.S. It said there were 4,584 properties with leverage as of Sept. 30 and the weighted-average loan-to-value ratio equaled 41%. Leverage turned negative during the quarter as properties with debt financing had a 0.36% leveraged total quarterly return. The average interest rate on the leveraged properties rose to 3.89% in the third quarter, up from 3.73% in the second and 3.43% in early 2022, the report said.
Hotels saw the highest total return in the third quarter, displacing industrial properties from the top spot. Apartments ranked second with a 1.20% return for the quarter, followed by industrial real estate at 1.11%, retail at 0.39% and office at -0.66%.
NCREIF said market value-weighted capitalization rates remained essentially flat during the quarter at 3.82% despite rising interest rates. Net operating income growth turned negative during the quarter to -0.49%, down significantly from the 4.05% growth rate seen in the prior quarter. "If this continues, cap rates are likely to rise in future quarters unless interest rates reverse course," the report said.