Bob Caruso of ServiceMac on Changes in Mortgage Servicing and Subservicing
Bob Caruso is CEO of ServiceMac LLC, Fort Mill, S.C., a wholly owned subsidiary of First American Financial Corp. To learn more about the company, visit firstam.us/about-servicemac.
MBA NEWSLINK: What changes you have seen in servicing over your 30-year career?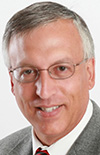 BOB CARUSO: I've been privileged to work for three of the largest banks in the mortgage industry — Chase, Bank of America, and Wells Fargo — as well as leading national title insurance providers, including being a part of First American since 2021 . I've primarily managed mortgage servicing, but I also have experience in originations and post-closing, and managed other products, including home equity, auto, consumer and commercial loans.
Certainly, technology has had the most profound impact on our industry. There are now strong tech solutions designed specifically to address areas like loss mitigation and compliance. In fact, compliance technology represents a significant opportunity for the mortgage finance industry to demonstrate its evolution over the past decade.
NEWSLINK: How is servicing changing, and how did this influenced your decision to establish ServiceMac?
CARUSO: Earlier in my career, the industry was focused on reducing the direct servicing cost-per-loan to below $40. However, during the pandemic, there was a 180-degree turn – the focus was on trying to help borrowers keep their homes, regardless of the cost. Until the pandemic, most private securitizations did not allow any, or offered minimal, loan modifications. In fact, many investors wouldn't agree to a loan modification unless we raised the borrowerr's interest rate. Today, lenders offer many options with the goal of keeping borrowers in their home, if possible.
Based on my experience, and informed by discussions with investors and regulators, we launched ServiceMac with the goal of providing a unique and improved servicing offering that focused on delivering a superior customer experience, enhanced data and transparency, and flawless execution.
From a customer experience perspective, we built state-of-the-art proprietary technology to offer more ways for customers to self-service, while also providing options for customers to quickly bypass long-winded interactive voice responses and speak to highly trained staff for support. We also allow our servicer clients the option to manage their own customer service, while we provide their personnel with our technology and training. This way, a client (MSR owner) has the option to deliver outstanding service themselves, while also offering their borrowers refinance and cross-sell opportunities.
Second, we have built our own data warehouse to store the data we collect. For each loan, we could have more than 15,000 data elements, which includes all the comments entered in the system, copies of letters, statements, recorded phone calls, etc. We offer our clients access to as much of this data as they want, providing opportunities to better understand their borrowers' needs. Many of our clients do a great job in identifying opportunities to offer their borrowers additional valuable services that can drive more revenue. Clients can access this data, both at the macro and loan level, via daily feeds or on-demand via their tablet, PC, or smartphone. More importantly, we don't charge any additional fees for access to the data.
Execution is the third emphasis. We created capabilities that allow us to rapidly identify and correct issues, most of the time before they impact the borrower. Many people look at servicing as a commodity and may have under-invested in it, so with the support of our parent company, First American, we have built a servicing workflow platform that checks every loan against more than 1,600 rules every day and enables us to detect and correct errors. In addition, we conduct mock audits where we mimic the audits of the CFPB, Fannie Mae, Freddie Mac, FHA, VA, USDA, and the Multistate Mortgage Committee. We continually enhance our loan level and mock audit rules to identify and proactively identify potential portfolio risk.
NEWSLINK: What issues are servicers currently facing? How are subservicers addressing these challenges?
CARUSO: Compliance is the biggest challenge in servicing today. With delinquency increasing due to economic factors, the urgency to execute and perform in accordance with all the various rules and regulations is intensifying. We all have the desire to perform at a high level. I've never seen a servicer that intentionally didn't adhere to the regulations. The quantity and ever-changing nature of the rules make it very difficult to execute at a high level without strong technology and people. We designed our intuitive proprietary technology platform to help us manage compliance at scale efficiently and execute at the highest level.
NEWSLINK: What role should technology play in servicing going forward?
CARUSO: While servicing technology has evolved over the last several years, broadly speaking the industry has under-invested in technology. Just look at how much capability you have in your smartphone. We need more technology, like our proprietary platform Sentry360, that helps our staff do their jobs more efficiently, while supporting lenders and homeowners with even greater levels of accuracy.
NEWSLINK: How has customer support changed in servicing since the pandemic?
CARUSO: Customer support has improved. For example, we've provided borrowers with the option to self-serve as much as possible. However, we shouldn't force borrowers to only self-serve. There are times when borrowers are best served by speaking with a trained support professional and we've built that into our platform and processes.
Creating the ability during the pandemic for a borrower to self-serve to obtain a forbearance plan was efficient, but most borrowers didn't understand what forbearance really meant, what the repayment terms were, or how it might impact their credit.
As a result, at ServiceMac, we saw an opportunity to help borrowers navigate a confusing situation. We required borrowers to talk to us and explain their situation, which allowed us to educate them on possible solutions and potential consequences. We helped them understand the details of their situation, so they could make an informed decision given their individual circumstances.
NEWSLINK: What is ServiceMac doing to address changing servicer and borrower/homeowner expectations?
CARUSO: We're continuing to invest in our technology to provide even more self-service options for our borrowers, while also enhancing our staff's expertise in providing borrowers with high-quality support via phone or other channels, when needed.
NEWSLINK: How has the company has been able to grow servicing over the past three years?
CARUSO: By closely assessing the shifting demands from clients and borrowers, and with deep knowledge of the operational issues inherent in servicing and subservicing today, we developed our business model and technology from the ground up to address many of the industry gaps we identified. As a result, we have been well received by the market. We've also benefitted from the strength and reputation of First American, which further enhanced our credibility with key industry players.
NEWSLINK: How has your technology and client/customer service supported such growth?
CARUSO: From day one, we built our company with an eye to the future and rapid growth in mind. We invested in building out our platform leveraging cloud-based technology. We didn't have any legacy technology or issues, and we thoroughly assessed the servicing technology marketplace. Where technology already existed, we "bought" it. Where technology didn't exist, we built it. Our bias was toward "buy before build," but, if we build it, we were committed to building unique solutions that were better than anything that was currently available.
Since we expected to grow quickly, we also made sure the technology was scalable. We knew we could not be the best at everything right out of the gate, so in areas that required substantial headcount or needed unique expertise, we leveraged best-in-class vendors. We didn't want to have any hindrances to our growth, and we looked for opportunities to strengthen our team and company.
(Views expressed in this article do not necessarily reflect policy of the Mortgage Bankers Association, nor do they connote an MBA endorsement of a specific company, product or service. MBA NewsLink welcomes your submissions. Inquiries can be sent to Mike Sorohan, editor, at msorohan@mba.org; or Michael Tucker, editorial manager, at mtucker@mba.org.)