Today's Top National News Dec. 7 2022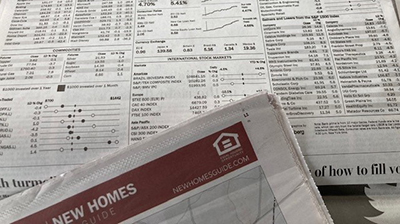 Here's a summary of Top National News Items from major news sites and industry trade publications. To get started, click on the headline above:
MBA Finds Commercial, Multifamily Mortgage Delinquency Rate Stayed Low in Q3
MortgageOrb, Dec. 6, 2022–Ariana Fine
Commercial and multifamily mortgage delinquencies remained low in the third quarter of 2022, according to the Mortgage Bankers Association's latest Commercial/Multifamily Delinquency Report.
https://mortgageorb.com/mba-finds-commercial-multifamily-mortgage-delinquency-rate-stayed-low-in-q3
Economists: a U.S. Housing Recession has Already Arrived
The Hill, Dec. 7, 2022–Daniel De Vise
Interest rates on a standard 30-year mortgage passed 7 percent, capping the largest single-year increase in at least 50 years. "Just to give you a sense of how far we've come, we started the year around 3 percent," said Michael Fratantoni, chief economist at the Mortgage Bankers Association. "It has just been a wild ride."
https://thehill.com/policy/finance/housing/3764226-economists-a-us-housing-recession-has-already-arrived/
U.S. Trade Deficit Widened in October on Lower Energy Exports
Wall Street Journal, Dec. 6, 2022–Yuka Hayashi (subscription)
The trade gap in goods and services expanded in October to a seasonally adjusted $78.2 billion, the Commerce Department said Tuesday, up from a revised $74.1 billion in September.
https://www.wsj.com/articles/u-s-trade-deficit-widened-in-october-on-lower-energy-exports-11670335507?mod=hp_major_pos1#cxrecs_s
LendingTree: 2 In 5 Americans Expect Housing Market Crash In '23
National Mortgage Professional, Dec. 6, 2022–David Krechevsky
A significant portion of U.S. consumers expect the housing market to crash next year, according to a new survey commissioned by LendingTree.
https://nationalmortgageprofessional.com/news/lendingtree-2-5-americans-expect-housing-market-crash-23
Builders Pull Back on Single-Family Construction in Most Counties
HousingWire, Dec. 6, 2022–Brooklee Han
Single-family building in large metro outlying counties and exurban areas has waned in the past 12 months, according to the National Association of Home Builders Home Building Geography Index (HBGI) for the third quarter of 2022.
https://www.housingwire.com/articles/builders-pull-back-on-single-family-construction-in-most-counties/
Angel Oak Mortgage Sells Underwater Non-QMs, Takes 'Sizable Loss'
Mortgage Professional America, Dec. 6, 2022–Candyd Mendoza
Non-QM REIT Angel Oak Mortgage has revealed that it sold $343.4 million of mortgage loans for just $284.2 million as the company faces near-term headwinds due to market volatility.
https://www.mpamag.com/us/specialty/non-prime/angel-oak-mortgage-sells-underwater-non-qms-takes-sizable-loss/429717
Investors Yank Money From Commercial-Property Funds, Pressuring Real-Estate Values
Wall Street Journal, Dec. 6, 2022–Konrad Putzier, Peter Grant (subscription)
Big and small investors are queuing up to pull money out of real estate funds, the latest sign that the surge in interest rates is threatening to upend the commercial property sector.
https://www.wsj.com/articles/investors-yank-money-from-commercial-property-funds-pressuring-real-estate-values-11670293325
Fannie, Freddie Deliveries Continue to Slide in November
Inside Mortgage Finance, Dec. 6, 2022–Dennis Hollier
Lenders delivered $48.42 billion in single-family loans to Fannie Mae and Freddie Mac in November, a 19.5% decrease from October, according to a new Inside The GSEs analysis. Year to date, volume is down 54.1%.
https://www.insidemortgagefinance.com/articles/226421-fannie-freddie-deliveries-continue-to-slide-in-november?v=preview
Publicly Traded REITs Gained More Ground in November
Wealth Management Real Estate, Dec. 6, 2022–David Bodamer
November marked the second consecutive month of total return growth for the FTSE All Equity REIT index.
https://www.wealthmanagement.com/reits/publicly-traded-reits-gained-more-ground-november?
Housing Costs, Inflation's Biggest Component, Are Poised to Ease
Wall Street Journal, Dec. 6, 2022–Gwynn Guilford (subscription)
The end is in sight for one of the biggest sources of inflation. Surging housing costs helped keep inflation high this year but have likely already swung into reverse, economists say.
https://www.wsj.com/articles/housing-costs-inflations-biggest-component-are-poised-to-ease-11670301778?
Private-Label MBS Will Go from 'Bad to Worse' in 2023, Forecasts Say
National Mortgage News, Dec. 6, 2022–Brad Finkelstein (subscription)
Barclays is forecasting 10% home price depreciation in 2023 and another 4% the following year. Moody's Investors Service, which also issued an MBS outlook, expects a 4% home price decline next year. However, CoreLogic, after a brief downturn in the spring, now predicts prices rising by 4.1% by next October.
https://www.nationalmortgagenews.com/news/private-label-mbs-will-go-from-bad-to-worse-in-2023-forecasts-say