Dealmaker: M&T Realty Capital Corp. Provides $34M for New York Properties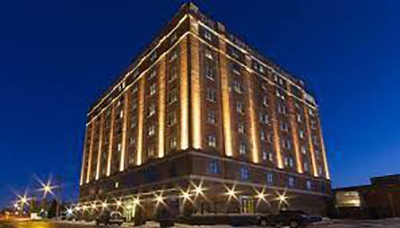 (Buffalo, N.Y., mixed-use property.)
M&T Realty Capital Corp., Baltimore, recently closed multiple deals in New York totaling $33.6 million.
In Buffalo, MTRCC Senior Vice President Zach Casale lead the refinancing of two mixed-use properties totaling more than 60 units. He secured $15.7 million in non-recourse life company financing at fixed rates with 30-year amortization schedules.
Casale said both properties received 70-plus percent loan-to-value loans with sub-5 percent 10-year interest rates. "The two properties are centrally located in downtown Buffalo and provide tenants with off-street parking and modern amenities," Casale said. "These opportunities were referrals from M&T Bank Relationship Managers William Vogel and Eric Heffler."
In Potsdam, N.Y. Casale helped refinance an off-campus housing development for SUNY-Potsdam students. A regional lender funded the $16.7 million loan that offered partial recourse and prepayment flexibility. "Partnering with our colleagues on the bank balance sheet side, we were able to refinance this M&T construction loan with limited recourse and recapture equity through a balance sheet lender that offered a rate lock upon signing of their application," he said.
Casale also secured $1.2 million to refinance a 45,221-square-foot multi-tenanted office park in Orchard Park, N.Y. near Buffalo. The professional office space houses more than 25 medical practices on ten acres.
"Our life company loan offered a fixed 15-year self-amortizing mortgage and low 4% rate for this suburban office park in one of Buffalo's best suburbs," Casale said.