CBRE: Industrial Occupiers Still in Expansion Mode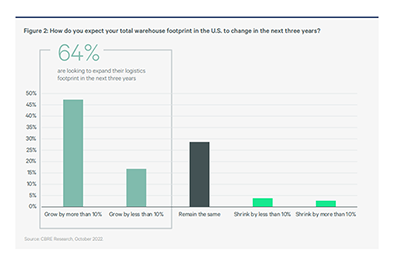 Strong industrial market demand will likely continue, though not at the record pace set in 2021, said CBRE, Dallas.
The CBRE Industrial Occupier Survey said 64% of 100 U.S.-based firms–and 81% of third-party logistics companies–plan to expand their real estate footprint over the next three years, despite current economic uncertainty.
In addition to third-party logistics companies, food and beverage (75%) and building materials and construction (75%) companies also intend to expand their real estate footprints in the face of supply chain disruptions, labor shortages and high occupancy costs, the report said.
"The U.S. industrial market is continuing to see robust demand, and companies are adding warehouse and distribution space to protect their inventories, diversify their supply chains and process growing e-commerce sales," said John Morris, CBRE President of Industrial & Logistics in the Americas. "Even with a more challenging economic backdrop, we're still seeing that companies are interested in expanding their footprints in the short-term."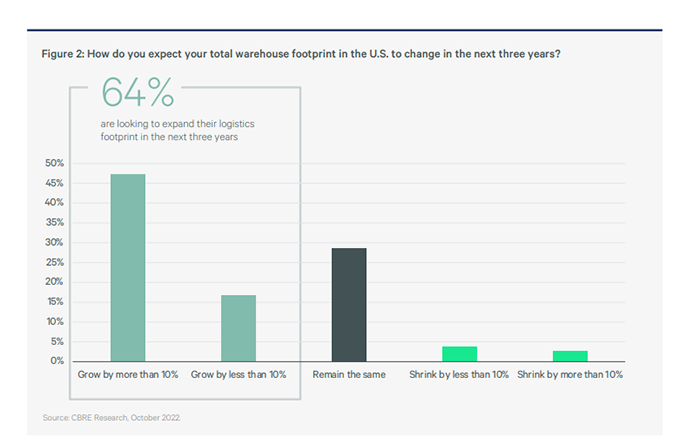 Occupiers most favor markets in the Southeast, Southwest and Midwest for expansion over the next 12 to 24 months due to their proximity to strong logistics hubs, robust labor forces and transportation nodes. Other top factors driving site selection include occupancy cost, lease options, transportation networks, building design and the quality of local infrastructure.
Distributors and e-commerce occupiers have returned to a "bread and butter" mentality regarding essential building features, the report noted. When selecting a new warehouse, more than 80% of occupiers identified clear height as one of the most important building features, with the number of loading bays/dock doors (76%) and power supply (56%) also ranking highly.
Industrial occupiers also examine a property's capacity for expansion (43%) and the property's column spacing (42%), CBRE said.