Industry Briefs Dec. 1, 2022: FundMore, VeriFast Partner on Digital Verification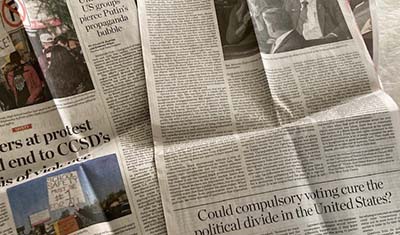 FundMore, VeriFast Partner on Digital Verification
FundMore, Ottawa, Ont., announced a partnership with end-to-end digital verification analytics platform VeriFast.
The partnership introduces a new layer of security for lenders using the FundMore platform to originate mortgage loans. With the new VeriFast functionality, lenders can instantly verify applicants' digital ID, financials and ability to service loans without leaving the FundMore platform. This gives them the ability to effortlessly identify fraud at the initial application stage and reduce human error and poor-quality loans.
VeriFast recently implemented OCR for bank statement and paystub upload as a waterfall to ensure all applicants can verify their financials. While digital verifications leveraging direct source data is the future, OCR of pdf statements is a necessary bridge required to serve all consumers across the technology adoption spectrum.
AppraisalWorks Partners with Mortgage Cadence on Appraisal Process
AppraisalWorks, Cleveland, Ohio, announced a partnership with Mortgage Cadence, Denver, that will allow lenders to consolidate multiple appraisal vendor and order management systems onto the AppraisalWorks platform for centralized management and automation of the complete appraisal management function.
The integration with AppraisalWorks will enable lenders to select the best-fit property valuation model directly within the Mortgage Cadence platform. Lenders benefit from real-time communication, on-demand access to appraisal information, customizable workflows, greater efficiency and transparency throughout the appraisal process.
STRATMOR: Current Mortgage Market Cycle is Unlike Previous Downturns
The current mortgage market down cycle is different from any downturn the industry has experienced in the past, according to the November issue of STRATMOR Group's Insights Report. STRATMOR Senior Partner Jim Cameron analyzes the industry data that shows just how it differs in his article "What's Different About This Downturn?"
"While most senior executives have managed their way through multiple downturns in the mortgage business, the universal sentiment is that 'this one feels different.' That's because it IS different!" Cameron said. "It's quite true — as down cycles go this is a bad one." The good news is that there are many reasons to believe that the current cycle will be shorter-lived than previous ones.
This downturn, Cameron added, "has delivered the biggest and fastest rate increase in modern history, the sharpest volume decreases ever — especially in terms of loan units — and the steepest reduction in revenue the mortgage business has ever seen."
Fannie Mae: Economy Still Expected to Enter (and Exit) Modest Recession in 2023
Fannie Mae, Washington, D.C., said after rebounding at a 2.6 percent annualized rate in Q3 2022 on the strength of net exports, real gross domestic product is projected to turn negative again in the fourth quarter as the temporary boost from international trade moderates.
The Fannie Mae Economic and Strategic Research Group also expects declines in residential fixed and business investment, as well as slowing personal consumption growth, to contribute to negative growth in Q4 2022, and it continues to expect the economy to tip into a modest recession in the first quarter of 2023. It said although inflation showed signs of cooling in October, the possibility of a strong labor market contributing to more persistent wage pressures in the future suggests to the ESR Group that the Federal Open Market Committee will once again raise the federal funds rate at its next meeting, and it forecasts the federal funds rate topping out at approximately 5.0 percent in early 2023.
"The economy continues to slide toward a modest recession, which we anticipate will begin in the new year, with housing leading the slowdown," said Doug Duncan, Senior Vice President and Chief Economist, Fannie Mae. "Higher interest rates have ignited the typical reduction in residential fixed investment, which historically has led into either an economic slowdown or recession. From our perspective, the good news is that demographics remain favorable for housing, so the sector appears well-positioned to help lead the economy out of what we expect will be a brief recession."
Blue Sage Partners with PointServ to Lower Borrower Verification Costs
Blue Sage Solutions LLC, Englewood Cliffs, N.J., partnered with PointServ Technologies, a provider of borrower asset and income data, to integrate PointServ's borrower verification products into the Blue Sage Digital Lending Platform.
Blue Sage clients can order PointServ's digital verification of asset (VOA), verification of employment and verification of income reports from directly within the Blue Sage platform and save up to $50 per loan.
PointServ provides lenders with access to complete VOA data directly from all major U.S. financial institutions as well as fast, digital payroll and tax return data directly from payroll providers, tax preparers and the IRS. As an authorized report supplier for Fannie Mae and Freddie Mac, PointServ's verification products allow lenders to achieve rep and warrant relief when originating Fannie Mae and Freddie Mac loans while also enabling lenders to achieve faster closing times with an improved borrower experience.
Logan Finance Implements OptifiNow TPO CRM to Grow Sales Team
Logan Finance imiplemented the OptifiNow TPO, a CRM platform designed for wholesale lenders. OptifiNow TPO provided Logan Finance with the ability to scale their wholesale team and quickly roll out mass marketing campaigns to brokers using innovative sales and marketing management tools.
OptifiNow TPO is a CRM platform designed for wholesale mortgage companies. Logan Finance chose OptifiNow TPO because they saw that the CRM could help them grow its Non-QM wholesale and correspondent channels quickly.
Real Estate Live Weekend Miami Conference Dec. 9-11
Real Estate LIVE's annual Real Estate Weekend Miami conference features Marcus Lemonis from CNBC's The Profit and HGTV's The Renovator. The 2nd annual conference for Loan Officers and realtors takes place December 9-11 in Miami with panels, networking mixers and a VIP yacht cruise.
Other speakers include CEO of Miami Association of Realtors, Teresa King Kinney; Tom Davis from Deephaven Mortgage; and Nicholas Hiersche from The Mortgage Calculator.
Register here: https://realestateweekendmiami.com/. MBA members can receive a free pass by using Promo Code: MBA.
HUD Announces Intergovernmental Advisory Committee
HUD announced members of the first-ever Tribal Intergovernmental Advisory Committee. HUD launched the committee to strengthen the nation-to-nation relationship between HUD and Tribal communities, coordinate policy across all HUD programs and advise on the housing priorities of the American Indian and Alaska Native peoples.
The function of TIAC is not to replace Tribal consultation, but rather serve as a tool to supplement it. Establishment of this first ever committee follows consistent engagement between HUD and Tribes across the county.
Larky Lowdown Reveals Popular Push Notification Messages Used by Financial Institutions and Engagement Rates by Category
Larky, Ann Arbor, Mich., released the second issue of The Larky Lowdown report. This quarterly report centers on push notification use within the financial services industry and shares intriguing data insights on the impact of this unique communication channel.
Report findings include: New Product Promotion push notifications (e.g. car loans, mortgages) typically receive the strongest engagement rates – 31% of the messages distributed by financial institutions fall within this category. More than 25% of messages within this category earn exceptional tap-through rates of 20% and above; also, 25% of Current Product Expansion messages (e.g., increasing existing debit card usage) earn exceptional tap-through rates. These push notifications are distributed by financial institutions about 5% of the time.
Williston Financial Group Hosts Dec. 15 Webinar
The fourth 2022 quarterly installment of "WFG Insights: Quarterly Economic Outlook," a webinar featuring Williston Financial Group Founder and Executive Chairman Patrick F. Stone and Economist and Forbes contributor Bill Conerly, will take place on Thursday, December 15 at 1:00 p.m. ET/noon CT/10:00 a.m. PT.
"WFG Insights: Quarterly Economic Outlook" attendance is open to all, but reservations are required and may be made by signing up here. The hour-long webinar includes commentary from both Stone and Conerly, as well as a Q&A session.
paymints.io Earns SOC 2 Type 2 Certification
Paymints.io, Charlotte, N.C., a secure, digital, white-label SaaS platform that allows parties to collect earnest money as well as transfer and disburse funds for real estate transactions, has been awarded a SOC 2 Type 2 designation. The certification confirms paymints.io maintains and conforms to a globally recognized standard in its storage and handling of client data.
Paymints.io's SOC 2 Type 2 audit was performed by Prescient Assurance, an independent, objective, third-party auditor, in conformance with universal standards set by the American Institute of CPSs. The process tested and reported on various organizational controls as they pertain to data security and privacy, including security, system availability, vendor management, data integrity and privacy among other internal controls.