Industry Briefs May 19, 2022: CFPB Launches New Effort to Promote Competition in Consumer Finance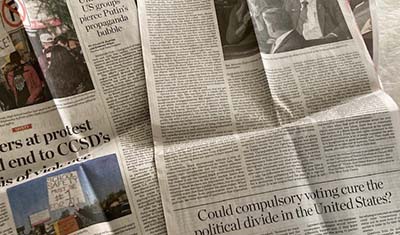 CFPB Launches New Effort to Promote Competition, Innovation in Consumer Finance
The Consumer Financial Protection Bureau is opening a new office, the Office of Competition and Innovation, as part of a new approach to help spur innovation in financial services by promoting competition and identifying stumbling blocks for new market entrants.
The office will replace the Office of Innovation that focused on an application-based process to confer special regulatory treatment on individual companies. The new office will support a broader initiative by the CFPB to analyze obstacles to open markets, better understand how big players are squeezing out smaller players, host incubation events, and, in general, make it easier for people to switch financial providers.
"Competition is one of the best forms of motivation. It can help companies innovate and make their products better, and their customers happier," said CFPB Director Rohit Chopra. "We will be looking at ways to clear obstacles and pave the path to help people have more options and more easily make choices that are best for their needs."
GPARENCY Launches Service for Commercial Mortgage Brokers
GPARENCY, Howell, N.J., launched Broker Assist, a white-label service for commercial mortgage brokers who need help securing and underwriting commercial property mortgages.
Broker Assist provides brokers with access to GPARENCY'S resources and staff expertise. GPARENCY will also identify banks willing to extend credit and provide detailed term sheets, with the most competitive rates, terms and structure, outlining the general financing structure of a deal.
MISMO Certifies DocMagic's Total eClose Platform, RON Technology
DocMagic Inc., Torrance, Calif., attained MISMO's eClosing System and remote online notarization certifications for its Total eClose platform.
Both certifications are part of MISMO's eMortgage Technology Certification Program, created to support, advance and increase the mortgage industry's adoption of digital solutions and is specifically designed to facilitate and encourage eClosing transactions. Moreover, the RON certification confirms that the provider's platform, procedures and policies comply with MISMO standards and the eClosing certification confirms that the platform meets MISMO-specific requirements.
DocMagic's Total eClose platform is a single-source solution that contains all components needed to execute fully paperless eClosings.
Indecomm Launches GeniusWorks
Indecomm Global Services, Edison, N.J., released GeniusWorks, an automation-driven intelligent workflow platform that combines Indecomm's proprietary automation with mortgage talent to streamline set-up, processing and underwriting.
Built for lenders looking to maximize productivity while minimizing costs, GeniusWorks leverages Indecomm's Genius suite of automation and talent to take loan files at set-up and return them to the lender clear-to-close. GeniusWorks streamlines all workflow, processes, decisions and tasks at middle-office origination so the lender's associates can focus on high-value efforts such as borrower engagement.
Redfin: Historic Housing Shortage Shows Signs of Letting Up as Sales Decline
Redfin, Seattle, said the housing market turned a corner in April as the inventory crunch showed signs of easing. The 9% year-over-year decline in homes for sale was the smallest since March 2020 and the first single-digit drop since the start of the pandemic.
While inventory remained at a record low, it fell at a relatively slow pace because soaring mortgage rates tempered homebuyer demand. Home sales slid 8%, the biggest drop since June 2020, which allowed white-hot home-price growth to cool slightly. The median home-sale price rose 16% to $424,000, a slowdown from March's 17% gain.
"When market conditions are changing it becomes more difficult for homebuyers and sellers to see eye-to-eye on pricing," said Redfin deputy chief economist Taylor Marr. "Many sellers are still seeking sky-high prices for their homes even though rising mortgage rates have limited homebuyer budgets. As a result, buyers are backing off, which is causing home sales to fall and the housing shortage to ease. As demand continues to soften, more sellers will likely be forced to drop their prices in order to get offers. The good news is that this should finally bring more balance to the market."
The Mortgage Collaborative, CondoTek Form Preferred Partnership
The Mortgage Collaborative, the nation's largest independent mortgage cooperative, and CondoTek, a resource in technology and services for condominium and co-op lenders, announced an exclusive Preferred Partnership that will bring CondoTek's technology products and services to The Mortgage Collaborative members along with special benefits.
Members of The Mortgage Collaborative will have access to CondoTek's products, including CondoPak, a documents and data product tool, and Condo Project Warrant, which delivers documents, data and a risk-free project warrant.
Planet Financial Group Partners with The Farmlink Project
Planet Financial Group LLC, Meriden, Conn., will donate $100,000 to The Farmlink Project, a nonprofit grassroots movement that connects surplus produce to communities in need, reduces carbon emissions and empowers the next generation of young changemakers.
The Farmlink Project connects farmers to food banks, delivering millions of pounds of farm-fresh produce that would otherwise be wasted to feed families in need. Through its Carbonlink program, the nonprofit supports comprehensive carbon offset projects that counteract emissions from our global food system. According to Nature Food, a food research journal, food systems produce 34 % of global greenhouse gas emissions.