#MBASecondary22: CFPB's Chopra Looks to Technology—and Takes Aim at Mortgage Servicing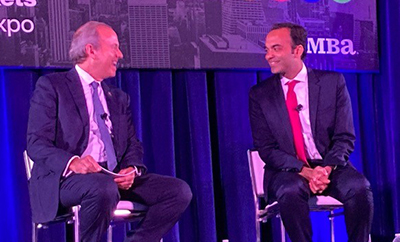 NEW YORK—Consumer Financial Protection Bureau Director Rohit Chopra says the future of consumer finance—and financial regulation—lies in technology.
"One of the things we are looking at is, what do we want the consumer markets to look like in an increasingly tech market," Chopra said here at the MBA National Secondary and Capital Markets Conference & Expo. The choices that you make as lenders and servicers, and the choices we make as regulators, will help shape the market going forward."
However, Chopra—who has set a decidedly more aggressive tone toward banks, nonbanks and servicers since assuming the head role at the CFPB—said technology must be taken with a grain of salt.
"I want to encourage everyone to use data and advances in computational technologies. But we also have to be realistic in that discrimination can be baked into the models," Chopra said. "You can find correlations about a lot of things, but it can be difficult to explain when it comes to machine learning. We are encouraging the companies we regulate to be able to explain their decision-making."
Chopra defended the Bureau's increased scrutiny of mortgage servicers. "A servicer's failure would be very messy and not good for the homeowner," he said. "Those situations give regulators a lot of heartburn."
On Monday, the Bureau published a report examining mortgage servicers' responses to the COVID-19 pandemic. The data, collected across 16 large servicers from May through December 2021, show homeowners continue to face significant risks and challenges connected to working with their mortgage servicers. The report said the problem is particularly acute for those borrowers struggling to make their mortgage payments after exiting COVID-19 hardship forbearances.
"While many mortgage servicers are successfully assisting borrowers to avoid foreclosure, today's report highlights that some servicers are lagging their peers and are less well-equipped to assist borrowers who have exited pandemic housing protections," Chopra said. "We will be closely monitoring mortgage servicer performance to ensure that they are meeting their obligations under the law."
Key findings from the report include:
Many borrowers exited COVID-19 hardship forbearance with no loss mitigation solution in place. The 16 servicers reported that more than 330,000 borrowers' loans remained delinquent – with no loss mitigation solution in place – at the end of 2021. Delinquency rates were higher for private loans – between 25% and 39% – than for federally backed loans – between 11% and 17%. While servicers have made progress working through delinquent loans, exiting a COVID-19 hardship forbearance with no loss mitigation solution in place puts a borrower at a heightened risk of foreclosure.
Some mortgage servicers significantly lag industry peers in call center response times. Call metrics showed average hold times of more than 10 minutes and call abandonment rates exceeding 30% for some servicers. The call metrics indicate that some borrowers may have difficulty establishing live contact and obtaining assistance over the phone to resolve their mortgage questions or challenges. These metrics varied among servicers, with some servicers performing well and others poorly.
Data on borrowers' language preferences remained limited. While the Bureau consistently has recommended that servicers collect and maintain information on borrowers' preferred language, several servicers marked that many of their borrowers' preferred language was unknown. Among the servicers who provided language preference data, the percentage of borrowers in delinquency and who had a non-English language preference, increased during the reviewed period. Conversely, the percentage of borrowers in delinquency and who identified English as their preferred language, decreased.
Some mortgage servicers relied on systems that could not provide information on key metrics. Some servicers did not track or were otherwise unable to provide several requested metrics. Additionally, some servicers reported inconsistent data. The report notes that some servicers are not fully able to track and report high-quality data. The CFPB is concerned about whether these servicers can ensure that all borrowers, and particularly those borrowers most in need of assistance, receive adequate and timely assistance in compliance with federal consumer financial protection law.
MBA President & CEO Bob Broeksmit, CMB, reminded Chopra that during the coronavirus pandemic, mortgage servicers pivoted quickly to help more than five million borrowers through mortgage forbearance programs, resulting in millions of borrowers remaining in their homes and mitigating the effects of a sudden economic downturn.
Broeksmit also noted certain non-lending aspects of the homebuying process, such as appraisals, remain rife with inaccuracies and bias. Chopra agreed. "We continue to see discrimination in largely minority and rural areas," he said. "My instinct is that in the future, it's not going to be human versus machine; it's going to be, when do you use which and when do you use both?"
Chopra said the industry is moving is in a "tricky" time. "Inflation is an issue, but there are many things going well," he said. "There's going to be a lot of differences in originations in the next year. You worry about people who have missed the refi cycle. We want to make sure that people have choices between bank and non-bank."
Chopra said it will be "high on the mind" of the Bureau going forward that consumers have a good mortgage servicing experience. "It's incumbent on the ability of servicers to help navigate their options," he said. "We think that servicers are doing a better job of working with consumers than they did 15 years ago. But frankly, some servicers are not being responsive to home borrowers."
Chora said one persistent theme has been messy IT integrations or core IT problems." It makes it difficult to identify problems," he said. "There are some who are lagging, and some who are doing much, much better. The good ones have been able to navigate the market, keep staffing up and maintain their technology."
One issue the Bureau is examining is inaccuracy among medical debt. "Lenders across the board say credit reports are often full of inaccuracies," Chopra said. "We agree. Medical debt is particularly problematic—in many cases the consumer is caught in a loop in which consumers are unfairly penalized for medical bills. We have articulated a number of issues as to the accuracy of those bills. The major credit reporting agencies announced that they will be eliminating a broad swath of medical bill issues and we hope that lenders will also take these discrepancies into account."
Another issue bearing stronger scrutiny is the increased role of non-banks, Chopra said. "Non-banks are a key part of what we are looking at," he said. "It's always going to be a big emphasis, but I want to make it clear that we don't want to be partial to either non-banks or banks. I am worried about how we have insight in how non-banks are using our data. IMBs have already been subject to state requirements as well and they have a lot of contractual requirements. We feel pretty good about our visibility on IMBs, but as they mature and they make big changes, they think through how that might affect future scrutiny."
Looking ahead, Chopra said he wants the mortgage industry to think hard about consumer finance infrastructure. "What do we see as the future of the credit industry and the future of credit scoring, when it comes to real-time payments and how consumers are going to interact about their data," he said. "We are thinking about a rulemaking that would move consumer finance more to an open finance system, in which consumers have more and transparent access to their data. There's a lot we can do in the next few years on this.
Just as importantly, Chopra said, "I want to have everyone think about making sure we serve borrowers where we are. Many of you are taking that step—the more we can meet people where we are, we can create more value that way."