Small-Cap CRE Market Value Reaches $3.4T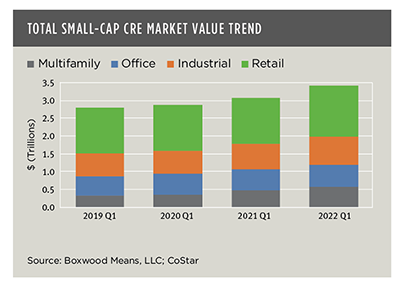 The small-cap commercial real estate market has grown to $3.4 trillion in dollar value, reported Boxwood Means LLC, Stamford, Conn.
Boxwood Means Principal and Co-Founder Randy Fuchs noted the small-cap space has increased substantially "as exceptional investment and space market fundamentals prevail."
In a new report, Boxwood Means analyzed market valuations for the four principal property types. It found retail accounted for the largest component, totaling $1.4 trillion, followed by industrial assets at $0.8 trillion, then office and multifamily at $0.6 trillion each.
The report said the small-cap commercial real estate market represents nearly 30 percent of the total dollar value of commercial real estate's four main property sectors.
The small-cap CRE valuation accelerated by nearly 10 percent over the past year, "as unprecedented double-digit growth in small commercial and multifamily asset prices tracked a resurgence in national space market fundamentals exemplified by swelling demand and historically low vacancy rates," Fuchs said.
Fuchs noted the multifamily segment recorded the greatest expansion in asset size over the past three years with an "outsized" 21.9 percent compound annual growth rate, nearly three times greater than the 7.5 percent average annual rate of return for next-best performer industrial. He said retail and office followed with yields of roughly 4 percent each. The overall market's CAGR averaged 7.1 percent across all four sectors.
"It comes as no surprise that the returns for multifamily and industrial assets outpaced the other two property types," Fuchs said. "After all, the small-cap multifamily sector has advanced at a feverish pace for years with record-setting demand, habitual supply scarcity and solid rent growth. Similarly, industrial rents have soared and vacancies have dwindled with a revival in U.S. manufacturing as well as with seemingly boundless demand for warehouse facilities of all sizes by logistics and e-commerce businesses."
The report said the overall sustained growth in market asset values speaks to the stability of small-cap real estate assets despite some difficult economic, social and public health conditions over the past couple of years. "Naturally, this market's resilience hinges primarily on the nation's millions of small businesses that, by dint of their stamina, diversity and entrepreneurial spirit, ultimately keep the U.S. economic engine moving forward," Boxwood said. "There may be some new warning signs emerging from economic reports of late, but the durability of the ecosystem linking small-cap commercial real estate and small business is a lodestar for investors and lenders in this massive space."