REIT Outlook Stays Positive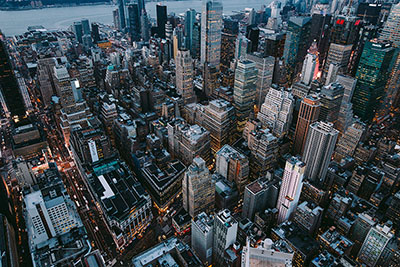 Midtown Manhattan photo courtesy of Thomas Habr

JLL, Chicago, said real estate investment trusts show renewed optimism, driven by a total return of 43 percent for the year, and outpacing the S&P 500 by 14 percent.
Led by retail, self-storage, industrial and multifamily housing, all REIT sectors posted positive returns in 2021, The JLL M&A and Strategic Transactions Monitor said. Retail proved particularly resilient in 2021 with an 88 percent gain over 2020, with self-storage ranking second at 78 percent.
"While early, this year-to-date has seen broader markets down significantly, as persistently high inflation, an ensuing Fed rate hike and broader geopolitical risks have dominated headlines," said Steve Hentschel, Head of the M&A and Corporate Advisory Group with JLL Capital Markets. "Despite the recent S&P and REIT performance, fundamentals support positive longer-term outlook for REITs, as the vast majority have consistently surpassed their Wall Street research analyst consensus quarterly funds from operations estimates over 2021. REITs also posted strong net operating income growth and occupancy increases throughout 2021."
REITs traded at 11 percent premium to net asset value on average last year, and this favorable cost of capital resulted in "robust" equity issuance volume, topping $54 billion for preferred and common equity, which was above the 2019 level of $50 billion, JLL reported. Additionally, increased dry powder led to REITs acquiring nearly $100 billion in assets in 2021, almost doubling 2020's $54 billion volume.
The report said large deals drove this surge in REIT mergers and acquisitions volume. The mix of M&A transactions led by strategic or private capital sources was $70 billion each to finish the year. "The common theme binding the larger transaction size is the premium that capital markets attribute to scaled platforms over the longer term," JLL said, noting a median REIT currently owns nearly $4.5 billion of real estate, 50 percent more than the size of a median REIT in 2010.
Sheheryar Hafeez, JLL Managing Director of M&A and Corporate Advisory Group, said transactions averaged $7 billion last year–nearly twice the size of deals from the prior decade–and mostly involved a smaller marketing process. "As dry powder earmarked for commercial real estate investment continues to grow, there is a growing sense of urgency among large investors to deploy capital efficiency," he said. "It appears the strong appetite for large portfolio deals is here to stay."