Home Price Appreciation Shows Few Signs of Easing
MBA NewsLink Staff
If home price appreciation is supposed to ease up this year, it's showing no such signs so far.
The latest S&P CoreLogic Case-Shiller Indices reported a 19.2% annual gain in January, up from 18.9% in December. The 10-City Composite annual increase came in at 17.5%, up from 17.1% in the previous month. The 20-City Composite posted a 19.1% year-over-year gain, up from 18.6% in the previous month.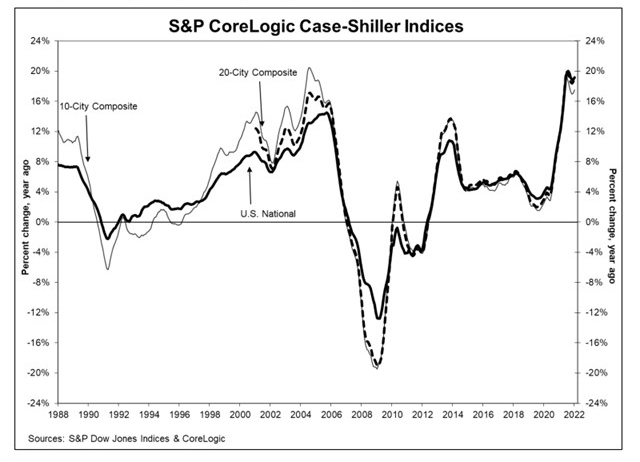 Phoenix led the 20-City Composite with a 32.6% year-over-year price increase, followed by Tampa at 30.8% and Miami at 28.1%. Sixteen of the 20 cities reported higher price increases in the year ending January 2022 from a year ago.
Month over month, before seasonal adjustment, the National Index posted an 1.1% in January, while the 10-City and 20-City Composites posted increases of 1.4% each. After seasonal adjustment, the National Index posted a month-over-month increase of 1.6%, while the 10-City and 20-City Composites posted increases of 1.8% each. All 20 cities reported increases before and after seasonal adjustments.
"Home price changes in January 2022 continued the strength we had observed for much of the prior year," said Craig J. Lazzara, Managing Director with S&P DJI. "Last fall we observed that home prices, although continuing to rise quite sharply, had begun to decelerate. Even that modest deceleration was on pause in January. The 19.2% year-over-year change for January was the fourth-largest reading in 35 years of history."
Lazzara said a slowdown is still likely. "The macroeconomic environment is evolving rapidly," he said. "Declining COVID cases and a resumption of general economic activity has stoked inflation, and the Federal Reserve has begun to increase interest rates in response. We may soon begin to see the impact of increasing mortgage rates on home prices."
"While the re-acceleration of home price gains may be concerning, and likely discouraging for first-time and younger buyers, it is nevertheless unsurprising considering the dire inventory of for-sale homes, which continues to decline and continually record new lows," said Selma Hepp, Deputy Chief Economist with CoreLogic, Irvine, Calif. "With mortgage rates jumping to three-year highs, existing homeowners now have little incentive to sell and buy a new, more expensive home with a higher mortgage rate. And while surging interest rates were expected to have a dampening effect on demand, there are still many buyers in the market who are able to afford the rising costs of homeownership. As a result, buyer competition this spring surged again and two out of three homes sold over the asking price – the same as last summer's peak."
"The supply of housing is tight virtually everywhere," said Mark Vitner, Senior Economist with Wells Fargo Economics, Charlotte, N.C. "Fewer existing homeowners are putting their homes on the market because they no longer want to downsize, or are afraid they will not be able to find another home to purchase. Construction timelines for homes, townhomes and apartments have also lengthened due to persistent shortages of labor and building materials."
The report said as of January, average home prices for the MSAs within the 10-City and 20-City Index are at 2007 levels.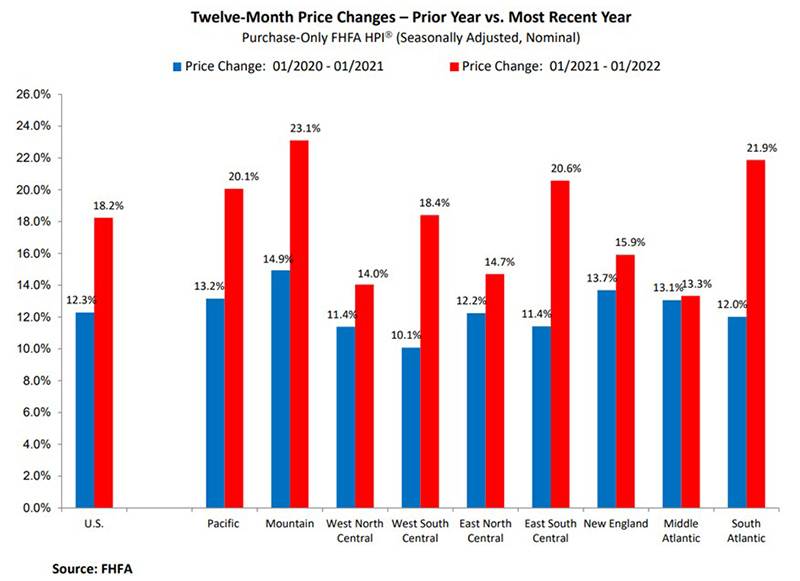 In a separate report, the Federal Housing Finance Agency said its House Price Index showed house prices rose by 18.2 percent annually through January. The previously reported 1.2 percent price change for December 2021 revised upward to a 1.3 percent price change.
For the nine census divisions, seasonally adjusted monthly house price changes from December 2021 to January 2022 ranged from +0.1 percent in the New England division to +2.2 percent in the South Atlantic division. The 12-month changes ranged from +13.3 percent in the Middle Atlantic division to +23.1 percent in the Mountain division.
"House price trends notched up slightly in January," said Will Doerner, Supervisory Economist in FHFA's Division of Research and Statistics. "Rising mortgage rates in January certainly reflect a major change from the past several years, but lending costs remain relatively low. The mortgage rate shift has not dampened upward price pressure from intense borrower demand and limited supply."