January Single-Family Rent Growth Posts Record
CoreLogic, Irvine, Calif., said single-family rent growth started 2022 strong by increasing 12.6 percent year-over-year in January.
All major metropolitan areas covered in the CoreLogic Single-Family Rent Index experienced year-over-year increases.
"Single-family rent growth extended its record-breaking price growth streak to 10 consecutive months in January," said CoreLogic Principal Economist Molly Boesel. "Rents increased across the country, and the gains were highest in the Sun Belt, which also had strong population growth last year."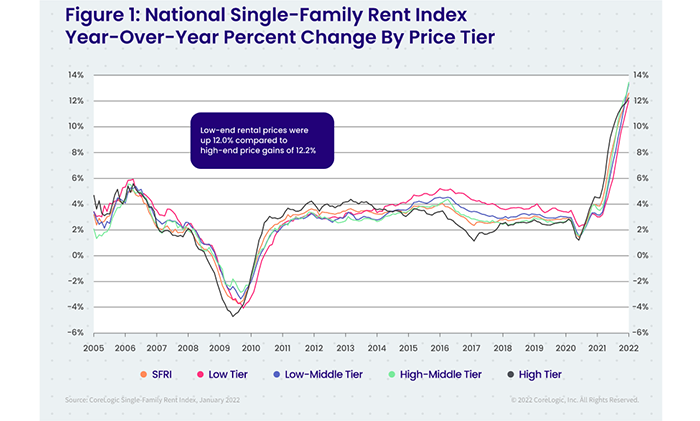 Boesel noted the robust price growth was partially due to a continuing shortage of available rental properties. In addition, the cost of purchasing a home rose by 19 percent on an annual basis in January, forcing many would-be homebuyers to keep renting. The year-over-year national rent price growth more than tripled the gain recorded in January 2021 and more than quadrupled the increase from January 2020.
CoreLogic examined four tiers of rental prices. National single-family rent growth across the four tiers and the year-over-year changes equaled:
• Lower-priced properties (75 percent or less than the regional median): 12 percent, up from 3 percent in January 2021
• Lower-middle priced properties (75 percent to 100 percent of the regional median): 13.3 percent, up from 3.2 percent in January 2021
• Higher-middle priced assets (100 percent to 125 percent of the regional median): 13.4 percent, up from 3.6 percent in January 2021
• Higher-priced SFR homes (125 percent or more than the regional median): 12.2 percent, up from 4.5 percent in January 2021
Among the 20 largest metro areas, Miami once again had the highest year-over-year increase in single-family rents in January 2022 at 38.6 percent. Orlando and Phoenix logged the second- and third-highest gains at 19.9 percent and 18.9 percent respectively, reflecting population gains seen in warmer areas of the country. The Washington, D.C. area recorded the lowest annual rent price growth with 5.6 percent in January.
"Differences in rent growth by property type emerged after the pandemic as renters sought out standalone properties in lower-density areas," the report said. "This trend drove an acceleration in rent growth for detached rentals in 2021 while the gains for [multifamily attached] rentals were more moderate. However, as rental inventory remains slim, the gap between attached and detached rental growth started to close last fall."
CoreLogic said multifamily rental property prices grew by 12.2 percent year-over-year in January compared to the 12.4 percent increase recorded for single-family rental homes. This figure represented the closest multifamily and single-family rental property growth rates have been since March 2020.