GDP Report Shows Economy Roaring Along, but Inflation Taking Bite Out of Profits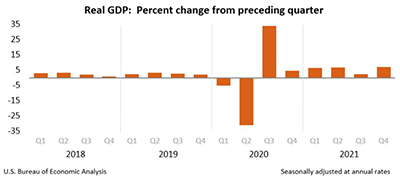 MBA NewsLink Staff
U.S. gross domestic product fired on all cylinders in the fourth quarter, the Bureau of Economic Analysis reported Wednesday, although rising prices cut into corporate profits.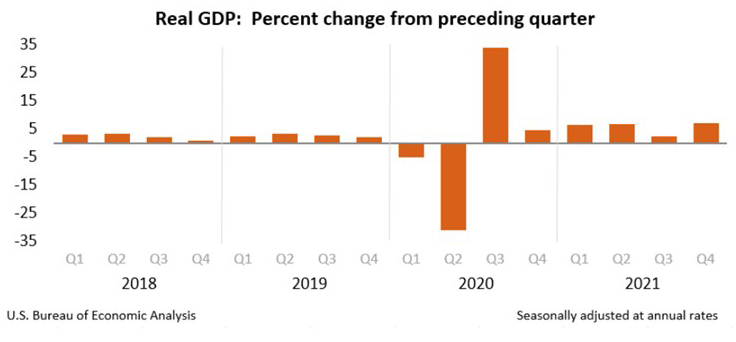 BEA reported real GDP increased at an annual rate of 6.9 percent in the fourth quarter, according to the "third" (final) estimate, based on more complete source data than were available for the "second" estimate issued last month.  In the second estimate, the increase in real GDP was 7.0 percent. In the third quarter, real GDP increased by 2.3 percent.
BEA attributed the downward revision primarily reflected downward revisions to personal consumption expenditures and exports that were partly offset by an upward revision to private inventory investment. The increase in real GDP primarily reflected increases in private inventory investment, exports, PCE, and nonresidential fixed investment that were partly offset by decreases in both federal and state and local government spending. Imports, which are a subtraction in the calculation of GDP, increased.
The report said profits of domestic financial corporations decreased $1.3 billion in the fourth quarter, in contrast to an increase of $14.2 billion in the third quarter. Profits of domestic nonfinancial corporations increased $5.0 billion, compared with an increase of $31.6 billion.
"Whether measured by spending or by income, growth in the U.S. economy was strong at the end of last year," said Jay Bryson, Chief Economist with Wells Fargo Economics, Charlotte, N.C. "Profit margins, which are perhaps more telling of corporate profitability, slipped to 12.2%. While still elevated by historic comparison, the decline in margins suggests the higher-cost environment is eating into profitability. With cost pressure remaining persistent and demand slowing, we expect margins to slow further this year as businesses find it increasingly difficult to pass costs onto consumers."