Evolving Office Sector Could Drive Flight to Quality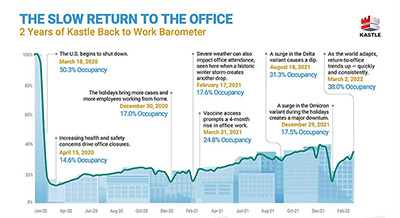 Workers are slowly returning to the office as the pandemic wanes, but office buildings remain relatively empty, reported Yardi CommercialEdge, Santa Barbara, Calif.
"During his State of the Union [speech], President Biden announced federal workers would soon be returning to the office and encouraged Americans to get back to work and fill our great downtowns again with people," CommercialEdge said in its March National Office Report. "Despite this push, office utilization levels from February 2020 are unlikely to return. Workers are hesitant to spend 40 hours a week in the office after two years of flexibility and many may look for other jobs that provide remote options if forced to return."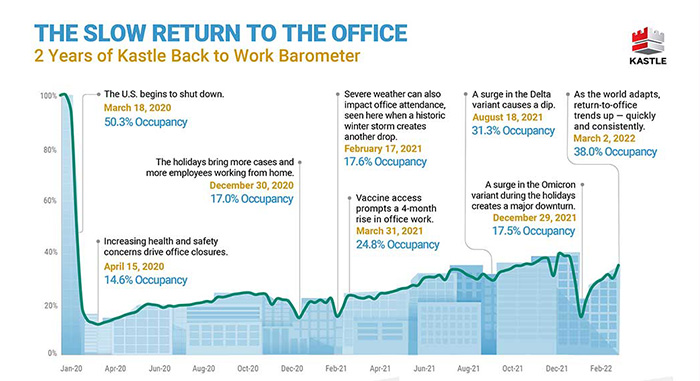 Kastle Systems, Falls Church, Va., tracks the number of users entering offices in the 10 largest U.S. cities compared to a pre-COVID baseline. The firm's Back to Work Barometer report dipped to 39.5 percent on March 16 compared to 40.5 percent a week before.
In its 2021 Occupier Sentiment Survey, CBRE, Dallas, found 87 percent of large companies plan to use a hybrid model employing both office work and telework.
This hybrid model will likely drive demand for high-quality space, CommercialEdge said. "This so-called 'flight to quality' is already playing out in some major markets," the report said. It noted Midtown Manhattan's 1.8-million-square-foot Class A tower One Vanderbilt is 90 percent leased after delivering in 2020 despite out-migration from the city.
"Investors have taken notice, leading to a growing spread in average sale price between asset classes over the last two years," CommercialEdge said. Class A buildings cost $50 more per square foot on average in fourth-quarter 2021 than fourth-quarter 2019, a 15 percent increase. But Class B building prices increased only $6 per foot or 6 percent over that time.
"For Class B and C buildings, the flight to quality will present challenges, but also opportunities," CommercialEdge said. "Some lower-quality assets will become prime targets for conversions [to industrial and other property types], especially in markets where land is at a premium."