Fitch: CMBS Properties See NOI Recovery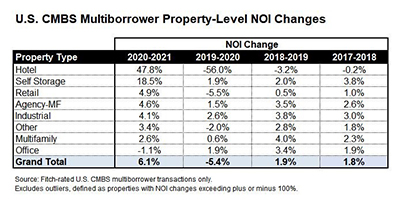 Fitch Ratings, New York, reported property-level net operating income for commercial mortgage-backed securities loans rebounded 6.1 percent on average in 2021.
This growth, following a 5.4 percent average decline in 2020, "illustrates the stabilizing performance of the asset class," Fitch said in a non-rating commentary.
Hotel sector performance was "very robust," Fitch said, with a 47.8 percent average NOI growth last year. But the growth did not make up for the 56 percent decline following the 2020 pandemic-related lockdowns. Full-service hotels' NOI grew 52 percent, while extended-stay and limited-service hotels grew approximately 45 percent.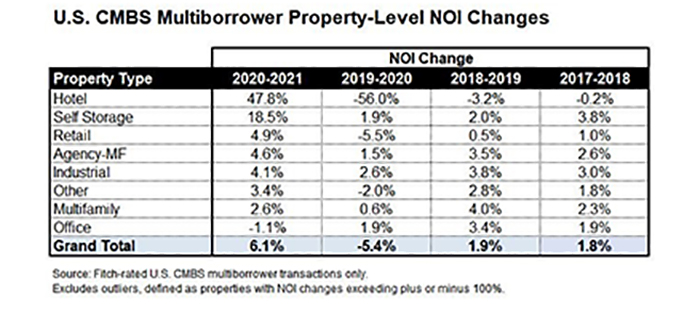 Office NOI showed a 1.1 percent decline on average in 2021, with urban properties (down 2.8 percent) faring worse than suburban (down 0.7 percent). "The lagged decline in office performance was expected because the lease structure supported them at the height of the pandemic," the report said. "However, as more leases come up for renewal, Fitch expects to see weakness. Anecdotally, in its surveillance reviews, Fitch has observed leases being renegotiated, tenants downsizing, and lease termination options being executed as well as increasing expenses including real estate taxes."
Retail net operating income grew 4.9 percent on average in 2021 which, after 2020's decline of 5.5 percent, brought average NOI back to nearly pre-pandemic levels, Fitch noted. Last year's improvement reflects properties reopening and tenants resuming rental payments after mandated property closures and lockdowns experienced in 2020, the report said.
Malls saw the lowest NOI growth among retail assets year-over-year at 2.4 percent. Drilling further, Fitch found Tier 3 malls (those in tertiary markets or with pre-pandemic sales below $400 per square foot and possibly already in special servicing) are still declining, down an additional 3.9 percent after falling 20.6 percent in 2020. Both Tier 1 and Tier 2 malls showed positive NOI growth driven by their generally better locations, market positioning and recovering sales. The report said single-tenant retail (3.7 percent) and anchored retail (4.2 percent) properties had slightly lower growth than shadow-anchored (6.2 percent) and unanchored (8.6 percent) retail, but the latter two had steeper NOI declines in 2020.
Overall, multifamily NOI grew 3.9 percent last year, Fitch said. The ratings firm has observed strong rent growth over the past 18 months, but noted growing expenses partially offset rent growth. By region, the Southeast and Rocky Mountain regions had the strongest NOI growth and New England and the West saw the weakest growth.
Consistent with Fitch's expectations, industrial real estate had strong NOI growth, 4.1 percent in 2021 compared with 2.6 percent in 2020. The report noted the pandemic boosted the industrial sector.