Dealmaker: Newmark Sells Silicon Valley Office Campus for $365M
Newmark, New York, sold Moffett Green, a recently renovated office campus in Sunnyvale, Calif., for $365 million.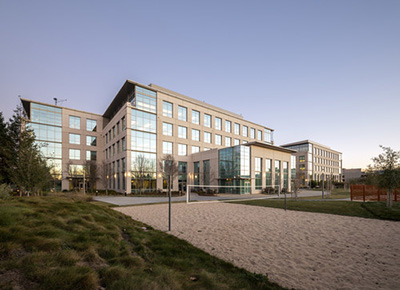 The campus comprises four Class A office buildings that total 719,000 square feet. All are fully leased to Meta Platforms, formerly known as Facebook Inc.
Newmark represented both seller Tishman Speyer, New York, and buyer CommonWealth Partners LLC, Los Angeles. Newmark Executive Vice Chairman and President of Western Region Capital Markets Steven Golubchik, Co-Head of U.S. Capital Markets Kevin Shannon, Executive Vice Chairman Phil Mahoney, Vice Chairman Edmund Najera, Senior Managing Director Jonathan Schaefler and Director Darren Hollak facilitated the transaction.
"The sale of Moffett Green marks the largest office investment trade in Silicon Valley history," Golubchik said. "The significant investor interest in this offering underscores the continued demand for trophy assets within high barrier-to-entry markets."
Shannon noted Silicon Valley office absorption is dominated by tenants seeking best-in-class campuses to attract and retain talent. "Investment capital continues to price these quality campuses aggressively with all-cash buyers like CommonWealth enjoying a competitive advantage today given the rise in interest rates," he said.