FOMC Raises Federal Funds Rate 75 Basis Points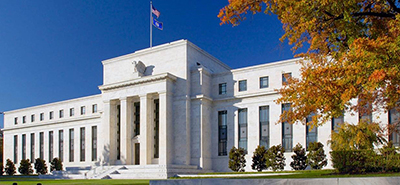 The Federal Open Market Committee hiked the federal funds rate by 75 basis points on Wednesday, matching its 75 basis point increase in June.
The Fed raised the target range for the federal funds rate to 2-1/4 to 2-1/2 percent, "and anticipates that ongoing increases in the target range will be appropriate," the organization said in a statement. "In addition, the committee will continue reducing its holdings of Treasury securities and agency debt and agency mortgage-backed securities, as described in the Plans for Reducing the Size of the Federal Reserve's Balance Sheet that were issued in May."
The FOMC called itself "strongly committed" to returning inflation to its 2 percent objective.
Mortgage Bankers Association Senior Vice President and Chief Economist Mike Fratantoni noted the markets had anticipated the increase.
"[The Fed] re-affirmed plans to reduce its balance sheet by continuing the passive runoff of its Treasury and mortgage-backed securities holdings," Fratantoni said. "Inflation continues to run too high and the Fed remains committed to slowing it, even if it leads to a recession." He called further rate increases "baked in" through at least the remainder of this year.
"The unanimous vote for this rate increase emphasizes the commitment to this path," Fratantoni said. Voting for the monetary policy action were Jerome H. Powell, Chair; John C. Williams, Vice Chair; Michael S. Barr; Michelle W. Bowman; Lael Brainard; James Bullard; Susan M. Collins; Lisa D. Cook; Esther L. George; Philip N. Jefferson; Loretta J. Mester; and Christopher J. Waller.
Fratantoni said noted mortgage rates have dropped about half a percentage point in recent weeks, heading closer to 5.5% than the 6% rates seen in June. "There is a tug-of-war in market expectations between the persistently high inflation numbers and resulting rapid Fed hikes and the increasing risk of a sharp slowdown and possible recession," he said. "As a result, mortgage rates may have already peaked and could stay between 5% and 5.5% through the remainder of 2022. If that were to be the case, potential buyers, who had been scared off by the rate spike, might find their way back to the housing market."