Home Price Reports Show Slowing—But Not by Much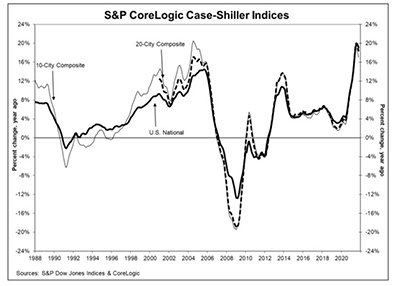 Monthly home price appreciation continues to slow, although at a rate providing scant relief to home buyers, according to two reports released Tuesday.
The monthly S&P CoreLogic Case-Shiller National Home Price NSA Index reported an 18.8% annual gain in November, down from 19.0% in October. Separately, the Federal Housing Finance Agency monthly House Price Index reported a 17.5% annual gain.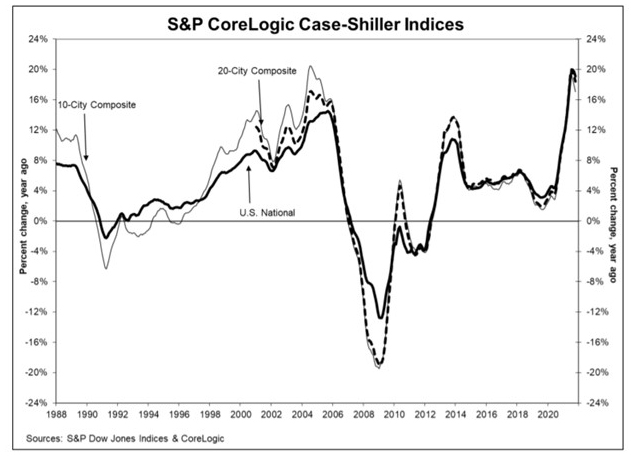 The S&P CoreLogic Case-Shiller 10-City Composite annual increase came in at 16.8% for November, down from 17.2% in October. The 20-City Composite posted an 18.3% year-over-year gain, down from 18.5% in October. Phoenix led all metros with a 32.2% year-over-year price increase, followed by Tampa at 29.0% and Miami at 26.6%. Eleven of the 20 cities reported higher price increases in the year ending November from October.
Month over month, before seasonal adjustment, the U.S. National Index posted an 0.9% increase in November, while the 10-City and 20-City Composites posted increases of 0.9% and 1.0%, respectively. After seasonal adjustment, the U.S. National Index posted a month-over-month increase of 1.1%, while the 10-City and 20-City Composites posted increases of 1.1% and 1.2%, respectively. Nineteen of the 20 cities reported increases before seasonal adjustments while all 20 cities reported increases after seasonal adjustments.
"For the past several months, home prices have been rising at a very high, but decelerating, rate. That trend continued in November," said Craig J. Lazzara, Managing Director with S&P DJI. "Despite this deceleration, it's important to remember that November's 18.8% gain was the sixth-highest reading in the 34 years covered by our data—the top five were the months immediately preceding November."
Lazzara added in the short term, "We should soon begin to see the impact of increasing mortgage rates on home prices."
The report said as of November, average home prices for the MSAs within the 10-City and 20-City Composites are exceeding their winter 2007 levels.
"While the November S&P CoreLogic Case-Shiller slowed for the third consecutive month — increasing 18.8% year over year and down from the 19.03% increase the month prior — many markets continue to experience acceleration in annual gains," said Selma Hepp, Deputy Chief Economist with CoreLogic, Irvine, Calif. "More than half of the 20 markets reported by S&P CoreLogic Case-Shiller had higher price growth in November, particularly warmer markets in Florida and the Southeast, as well as markets in Southwest. Additionally, higher tier price ranges have remained relatively more resistant to economic forces, mortgage rates and COVID-19-related demand changes and continue to be magnet markets for many buyers. Given that these areas have also had the relatively largest gains in in-migration, pressure on prices has persisted and will likely remain over the coming year."
"Housing was among the first areas to see a surge in prices as the economy reopened," said Mark Vitner, Senior Economist with Wells Fargo Economics, Charlotte, N.C. "Home prices have been pulled higher by a dramatic shift in the demand for housing and the more active role investors are playing in single-family housing markets. We expect home price measures to moderate this year, as higher home prices bring out more sellers and risks of contracting serious illness from COVID subside further."
Meanwhile, FHFA reported house prices rose by 1.1 percent in November and by 17.5 percent annually. For the nine census divisions, seasonally adjusted monthly house price changes from October to November ranged from +0.5 percent in the West North Central division to +1.9 percent in the South Atlantic division. The 12-month changes ranged from +13.3 percent in the West North Central division to +22.8 percent in the Mountain division.
"House price levels remained elevated in November, but the data indicate a pivot," said Will Doerner, Supervisory Economist in FHFA's Division of Research and Statistics. "The last four months reflect average gains of 1.0 percentage point, down from the larger prior changes during the spring and summer months. This new trend is a welcome shift but still twice the monthly average we have seen in the last 20 years, which echoes concerns about access and affordability in housing markets."