MBA Chart of the Week: Emergency Rental Assistance to Households
On Friday, January 7, the U.S. Department of Treasury released its latest monthly update on allocation of funds from the Emergency Rental Assistance program.
ERA1 was established as a response to the pandemic under the Consolidated Appropriations Act of 2021 which provided $25 billion to pay past, and in some cases future, rent and utility payments for households that meet certain criteria. ERA2 was established under the American Rescue Plan Act of 2021 and provided $21.55 billion in funding. The monies are granted to states, territories, local governments and Indian tribes to deliver rent and utility assistance through new or existing programs.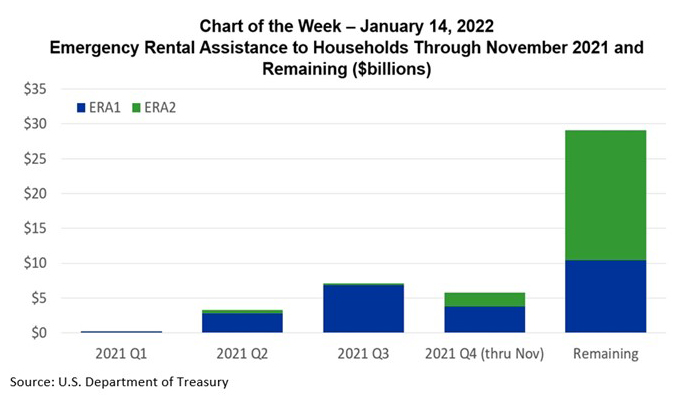 According to the latest Treasury report, through November, ERA1 cumulative expenditures were $14.6 billion, 58 percent of the total amount available, of which $13.6 billion provided rent or utility assistance to households. ERA2 cumulative expenditures were $2.8 billion, 13 percent of the total amount available.
The Treasury report shows $10.4 billion of ERA1 funding and $18.7 billion of ERA2 funding remains to be spent.
Largely reflecting the fact that the federal allocation of funds was generally agnostic to the share of renters in a state, expenditure of allocated ERA1 funds varies dramatically by location. More than 90 percent of the allocated ERA1 assistance to households has been spent in Virginia, Illinois, California, the District of Columbia, New York, Minnesota and North Carolina. Less than 20 percent has been spent in West Virginia, Delaware, Montana, Wyoming, North Dakota and South Dakota.
The Treasury Department is currently working through a process to reallocate ERA1 funds from jurisdictions that have less need to those that have spent most, or all their allocations.