RE/MAX: 2021 'Busiest Home-Buying Year'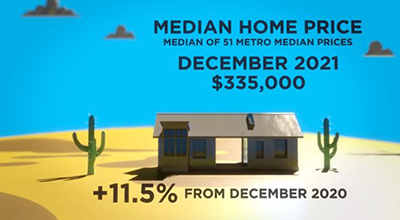 RE/MAX, Denver, said 2021 was the busiest year for homebuying in the 14-year history of its National Housing Report.
The latest report on 51 metro areas said December home sales ranked as second-highest for the month in report history, trailing only December 2020. RE/MAX President and CEO Nick Bailey said December home transactions could have been even stronger had it not been for record-low inventory.
Indeed, 2021 ended with the smallest number of homes for sale in the 14-year history of the report, and the 10 months with the lowest inventory in report history all occurred in 2021. Based on the rate of home sales in December, the Months' Supply of Inventory fell to just 1.2, compared to 1.4 in November, and from 2.0 in December 2020.
Bailey said the hot streak is likely to continue into 2022 but is hopeful more sellers come off the fence to alleviate some of the challenges buyers have been facing for years.
"December capped a fantastic year for home sales," Bailey said. "After a busy 2020, we expected 2021 to be even better – and it was. Buyers shrugged off all sorts of potential obstacles – high prices, record-low inventory, stiff competition for available listings – and kept things rolling the entire year."
Bailey noted the story of housing in 2021 was centered around high demand that led to a substantial increase in sales despite ultra-low supply. "What's promising for 2022 is that many of the factors which drove record sales in 2021 remain in place," he said. "Interest rates are still attractive, workplace flexibility continues, and many homeowners are sitting on a mountain of equity. If more of them become sellers, there's ample reason to think the hot streak will continue. The past two years have proven that buyers are out there and ready to go."
The report said December home sales were actually down 0.8% from November, which had an unusually high total. Markets with the biggest decrease in year-over-year sales percentage were San Francisco at -21.9%, Manchester, N.H. at -17.6% and Atlanta at -17.1%. Leading the year-over-year sales percentage increase were Wilmington/Dover, Del., at +8.9%, Billings, Mont., at +8.3%, and Boise, Idaho at +8.2%.
The report said December's median sales price of $335,000 was up 1.4% over November and 11.5% year over year. Average days on market for home sold in December rose to 31, up two days from the average in November, but down seven days from the average in December 2020.