Home Price Appreciation Marches On, Unabated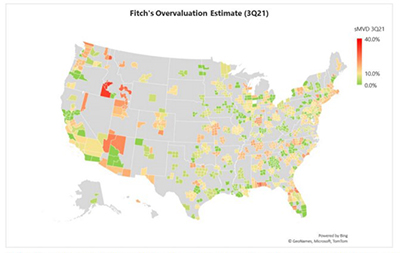 Reports from Fitch Ratings, New York, and Redfin, Seattle, confirm other industry reports showing while U.S. home price growth appears to be slowing, market conditions portend a very competitive housing environment in 2022.
Fitch reported home price growth decelerated in the third quarter, marking the first quarter the rate of home price increase has slowed since onset of the coronavirus pandemic. National home prices grew 4.2% in 3Q21, down slightly from 5.5% in 2Q21. However, favorable mortgage rates and the demand/supply imbalance are still driving up home prices. Fitch calculates nationwide annual growth of 19.7% as of September 2021 and estimates that national home prices are 10.6% overvalued on a population-weighted average basis.
Fitch estimated home prices in 77% of the country's MSAs are more than 10% overvalued, compared to only 4% pre-pandemic. Idaho and Florida remain the most overvalued states. Among the top 100 most populated MSAs, Boise City, Idaho is estimated to be the most overvalued area, followed by Coeur d'Alene, Idaho and Idaho Falls, Idaho.
Redfin reported the median home sale price surged by 16% year over year to a record-high $365,000 during the week ending January 9.
The report noted prices keep climbing because the supply drought keeps deepening while demand increases. The number of homes for sale fell to a new low as listings hit the market at a slower rate than they did early last year. Yet homebuyer activity—as measured by the Redfin Homebuyer Demand Index—jumped 9%. Mortgage rates rose to 3.45% during the seven days ending January 13, making homebuying more expensive as overall inflation hit a 40-year high.
"The stage is now set for the most competitive January housing market in recorded history," said Redfin Chief Economist Daryl Fairweather. "Buyers are pouring into the market to claim a home before mortgage rates rise further as new listings slow to a trickle. The conditions are becoming increasingly challenging for first-time homebuyers, who will have to compete against more experienced buyers who are willing to do whatever it takes to win."
"Homebuyers are touring nearly every home that comes on the market, waiving every contingency, offering $100,000 over asking price, and still losing out to 9+ other offers," said Portland Redfin real estate agent Jennifer Ciacci.