Industry Briefs Dec. 14, 2022: CFPB Proposes Registry to Detect 'Repeat Offenders'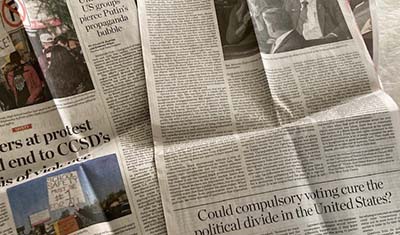 CFPB Proposes Registry to Detect 'Repeat Offenders'
The Consumer Financial Protection Bureau proposed requiring certain nonbank financial firms to register with the CFPB when they become subject to certain local, state or federal consumer financial protection agency or court orders. The CFPB has further proposed to publish the orders and company information via an online registry.
Larger companies subject to the CFPB's supervisory authority would be required to designate an individual to attest whether the firm is adhering to registered law enforcement orders. The CFPB's proposed rule would help the agency identify and mitigate risks to households and ensure that supervised companies perform their obligations to consumers.
The CFPB maintains a central repository of nonbanks subject to agency and court orders. The repository allows the CFPB to track and mitigate risks posed by repeat offenders, while also being able to monitor all lawbreakers subject to agency and court orders. The CFPB will share this powerful source of information with others, including with fellow regulators and law enforcement agencies, by making the registry public.
CoreLogic Launches Climate Risk Analytics to Model, Predict Property Risk Through 2050
CoreLogic, Irvine, Calif., launched Climate Risk Analytics, designed to help government agencies and enterprises measure, model and mitigate the physical risks of climate change to the real estate industry, initially through 2050. This solution is built on Google Cloud's secure and sustainable infrastructure.
Built on CoreLogic's Discovery Platform, a spatial data and analytics platform, CoreLogic Climate Risk Analytics is powered by CoreLogic's CLIP system, which leverages professional-grade, granular data to pinpoint a property's exact location and its attributes. It provides a blended risk score for every U.S. property with a granular breakdown of specific peril risks and each risk's financial impact. In climate risk analysis, accuracy and scale matter.
WFG Extends Commitment to Resware for Multi-year Term
Qualia, San Francisco, a digital real estate closing platform, reached an agreement with WFG National Title Insurance Co., Portland, Ore., a provider of title insurance and real estate settlement services for commercial and residential transactions nationwide, to extend WFG's commitment to Resware, part of the Qualia suite of products.
WFG has built numerous custom integrations and operational processes on top of the Resware product since implementing the title production software several years ago. The investment WFG makes in technology enables their closers to efficiently deliver highly personalized, differentiated services across various nuanced and unique transaction types.
The Resware product was added to the Qualia technology suite in late 2020 following Qualia Labs' acquisition of Resware's then-parent company Adeptive Software. In the period since, Qualia has continued to invest in expanding Resware's capabilities, performance and stability. In a few months, additional upgrades will be made available as part of the upcoming Resware v10 release, the largest release in nearly five years.
Lodestar Integrates with ICE Mortgage Technology on API Exposure
LodeStar Software Solutions, Philadelphia, a provider of closing fee-related compliance tools for mortgage lenders, will leverage ICE Mortgage Technology's Encompass Partner Connect APIs to deliver a smoother TRID, closing estimate and Loan Estimate process. ICE Mortgage Technology is part of Intercontinental Exchange Inc., a provider of data, technology and market infrastructure.
Through the collaboration, ICE will enable its customers to access LodeStar services and data via APIs exposed by ICE. Lenders can generate cost estimates and documents required by the TILA-RESPA Integrated Disclosure Rule such as the LE, from pre-application to the final Closing Disclosure, with guaranteed accuracy.
CFPB, FHFA Publish Updated Data from National Survey of Mortgage Originations for Public Use
The Consumer Financial Protection Bureau and the Federal Housing Finance Agency published updated loan-level data for public use collected through the National Survey of Mortgage Originations. The data also provide updated mortgage performance and credit information for a nationally representative sample of mortgage borrowers from 2013 to 2020.
The data show how the COVID-19 pandemic shaped the mortgage borrower experience in 2020. A higher share of borrowers reported that a paperless online mortgage process was important to them in 2020 (48 percent) than in 2019 (42 percent). More borrowers reported that the mortgage closing did not occur as originally scheduled in 2020 (21 percent) than in 2019 (17 percent).
"This year's survey clearly shows both the impact of the pandemic and low interest rates on the mortgage market in 2020," said Mark McArdle, CFPB Assistant Director for Mortgage Markets. "As with past years, this data can help us better understand underlying trends, identify potential issues as well as possible opportunities for industry to better serve consumers."
The NSMO is a component of the National Mortgage Database, a repository of detailed mortgage loan information designed to support policymaking and research efforts and to help regulators better understand emerging mortgage and housing market trends.
Accurate Group Partners with Mortgage Cadence on Digital Mortgage Technology
Accurate Group, Cleveland, Ohio, a provider of technology-driven real estate appraisal, title data, analytics, and e-closing platforms, announced a partnership with Mortgage Cadence, Denver, that allows lenders to access Accurate Group technology via the Mortgage Cadence Collaboration Center.
The partnership will enable lenders using Mortgage Cadence to access Accurate Group's spectrum of product and service offerings – including traditional appraisal, ValueNet hybrid and desktop appraisals, automated valuation models, title data and closing technologies. Lenders can order an appraisal, schedule a property inspection, gather title data information and prepare for closing, through the Mortgage Cadence Collaboration Center.
Multi-Bank Securities Inc. Joins Agile's Broker-Dealer Network
Agile, Philadelphia, announced Multi-Bank Securities Inc., a veteran-owned, fixed-income securities broker-dealer, joined Agile's broker-dealer network. The addition of MBS gives lenders on Agile's growing network expanded access to competitive trades and simpler trade reconciliation across Agile's electronic RFQ platform.
Agile's broker-dealer network now consists of 16 broker-dealers with access to a pool of mortgage lenders who trade TBAs. Agile's electronic RFQ platform and MBS pool bidding provides MBS and all broker-dealers on the platform with increased trading partners and requests, heightened granularity and speed.