CoreLogic: Annual Home Price Growth Slows to Half of Spring Peak
CoreLogic, Irvine, Calif., said year-over-year home price growth remained in double digits in October, at 10.1%, but continued to cool and was the lowest recorded since early 2021.
The company's Home Price Index and HPI Forecast for October noted several factors contributing to slowing appreciation: low inventory due to seller preferences to keep affordable mortgage rates that they have already locked in, homebuyer loss of purchase power and current economic uncertainty.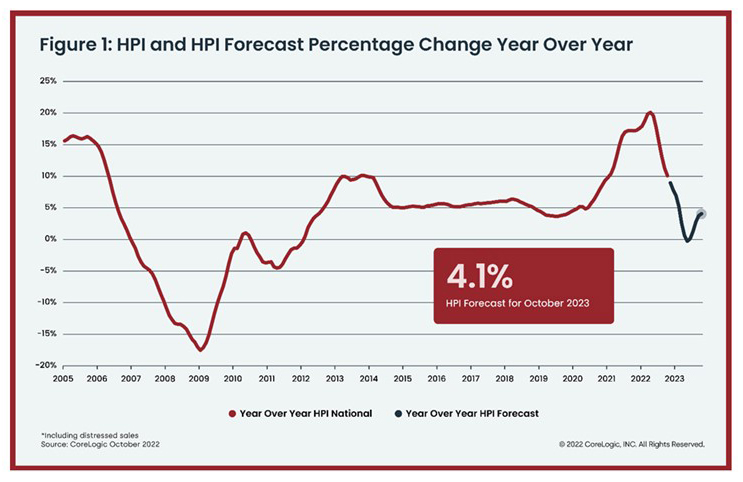 The report said annual U.S. price growth is expected to taper off in the coming months, perhaps moving into negative territory by spring 2023, but then slowly ticking back into single digits as the year progresses. Annual U.S. home price gains are forecast to slow to 4.1% by October 2023.
"Following the recent mortgage rate surge above 7%, real estate activity and consumer sentiment regarding the housing market took a nosedive," said Selma Hepp, interim lead of the Office of the Chief Economist with CoreLogic. "Home price growth continued to approach single digits in October, and it will move in that direction for the rest of the year and into 2023."
Hepp noted, however, "while some housing markets have seen significant recalibration since the spring price peak and are likely to post losses in 2023, further deteriorating for-sale inventory, some relief in mortgage rate increases and relatively positive economic news may help eventually stabilize home prices."
The report said on a month-over-month basis, home prices declined by 0.1% from September. Annual appreciation of detached properties (10.1%) was 0.3 percentage points higher than that of attached properties (9.8%).
Miami posted the highest year-over-year home price increase of the country's 20 largest metro areas in October, at 22.6%, while Tampa, Florida retained the No. 2 slot at 20%. Florida and South Carolina recorded the highest home price gains, 20.2% and 16.1%, respectively. Georgia and North Carolina tied for third, with 15.3% year-over-year increases. Washington, D.C. ranked last for appreciation at 0.2%.