Black Knight: Purchase Locks Down 22% Despite Lower Rates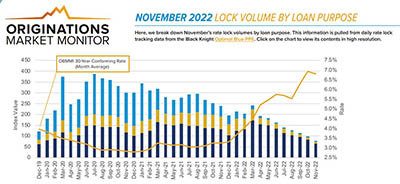 Black Knight, Jacksonville, Fla., reported despite a nearly half-percentage-point decrease in mortgage interest rates, overall lock volumes dropped by 21.5% in November and are down 39% over the past three months and 68% off last year.
The company's monthly Originations Market Monitor said the annual seasonal slowdown has been exacerbated by affordability and inventory pressures.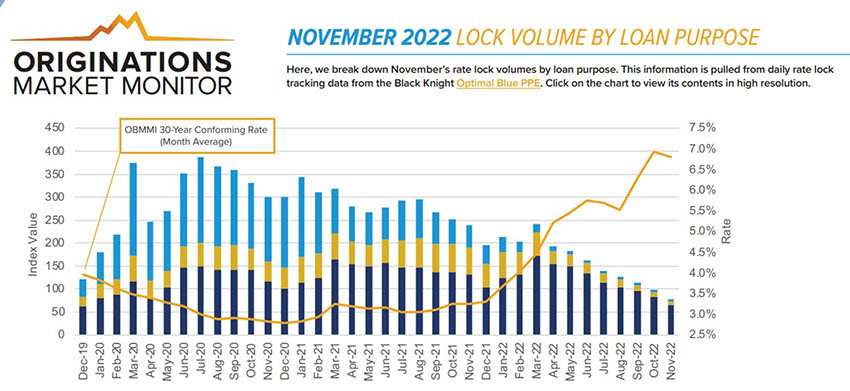 "Mortgage rates pulled back slightly in November based on what the market perceived as good inflation news," said Scott Happ, president of Optimal Blue, a division of Black Knight. "The spread between mortgage rates and the 10-year Treasury yield narrowed by 13 [basis points] during the month to 283 BPS in a sign that investors and lenders may be seeking to accelerate the impact of falling rates."
The report said all loan purposes were off by similar amounts, with purchase locks down by 22%, rate/term refis down by 17% and cash-out refis down by 18%, with refinance locks making up 15% of the month's activity overall.
Headwinds from both interest rates and affordability continue to challenge purchase lending, with the dollar volume of such locks 37% over the past three months and more than 50% from a year ago. Purchase lock counts – which exclude the impact of rising home prices – were down 48% year over year and 27% compared to pre-pandemic levels in 2019.
The report said credit scores for cash-out refinances fell 4 points to 686 (down 40 points over the past 12 months) but remained unchanged for purchase and rate/term refinance transactions. Adjustable-rate mortgages, which surged amid rising rates, pulled back slightly to 10% for the month from 13% in October as the interest rate dip pushed demand back toward fixed rates. Nonconforming locks (including jumbo and expanded guidelines) as a share of the month's total volume continued to fall in November, with conforming and FHA locks picking up market share as a result
"While we would normally expect some seasonal pullback in activity in November, we are also seeing exceptionally strong headwinds in purchase activity from continued affordability challenges and a refinance market that has dwindled to all but nonexistent levels," Happ said. "This dynamic's only been exacerbated by recent cutbacks in new home construction and the ongoing existing home listing inventory shortage. And, even with a half a point pull back in conforming 30-year rates in November, stalled inventory and rates nearly twice what they were a year ago both serve as counteracting forces, somewhat negating recent home price declines from an affordability perspective."