Single-Family Rent Growth Extends Record-Breaking Streak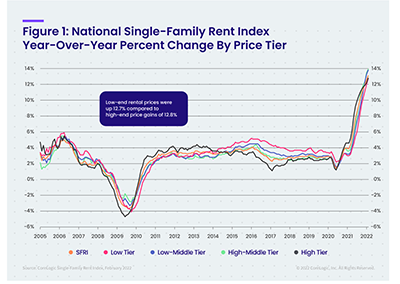 Chart courtesy of CoreLogic

CoreLogic, Irvine, Calif., said single-family rent growth continued its double-digit gains in February, rising 13.1 percent year-over-year. The increase represented the highest rate in the index's history.
Warmer areas of the country again posted the largest price hikes, with rents in Miami up nearly 40 percent from a year ago. A shortage of available rentals is contributing to the prolonged run-up in price growth, as is the low U.S. unemployment rate, the CoreLogic Single-Family Rent Index report said. Robust home price increases–up 20 percent year-over-year in February–likely also contribute to more Americans renting rather than buying, the report noted.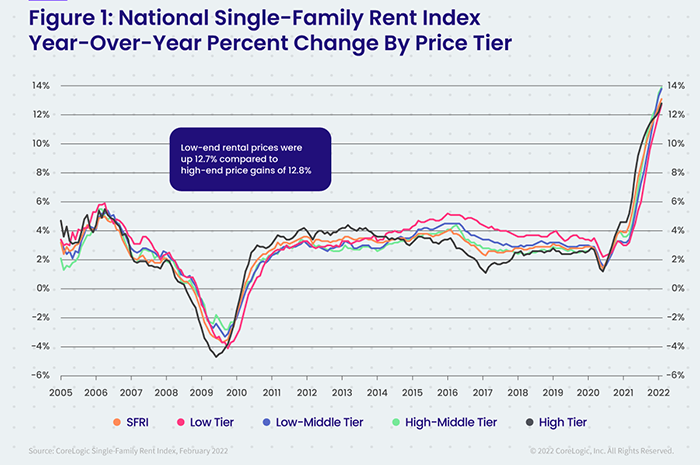 Molly Boesel, Principal Economist with CoreLogic, said single-family rents rose at more than three times the rate from a year earlier and more than four times the pre-pandemic rate. "Strong employment and low supply have pushed single-family rental vacancy rates to low levels and have contributed to the high growth in rents," she said.
CoreLogic examined four tiers of rental prices. National single-family rent growth and year-over-year changes equaled:
• Lower-priced (75 percent or less than the regional median): 12.7 percent, up from 3 percent in February 2021
• Lower-middle priced (75 percent to 100 percent of the regional median): 13.8 percent, up from 3.2 percent in February 2021
• Higher-middle priced (100 percent to 125 percent of the regional median): 13.9 percent, up from 3.6 percent in February 2021
• Higher-priced (125 percent or more than the regional median): 12.8 percent, up from 4.6 percent in February 2021
Among the 20 largest metro areas, Miami again had the highest year-over-year increase in single-family rents in February at 39.5 percent. Orlando and Phoenix logged the second- and third-highest gains at 22.2 percent and 18.9 percent respectively, reflecting an influx of Americans migrating to Sun Belt states. The Washington, D.C. area and St. Louis recorded the lowest annual rent price growth, both at 6.5 percent in February.
Some neighborhoods have started to push back against companies buying single-family homes intending to convert them to SFR properties. The Wall Street Journal on Monday reported some neighborhood groups believe too many SFR properties make their neighborhoods less desirable.
"Investors are also making it more difficult for local families to buy houses," the article said, noting some neighborhood groups sometimes cap the number of homes in a particular neighborhood that can be rented or require a board approve all rental tenants.