MBA NewsLink 2022 Tech All-Star: Harry Gardner of ICE Mortgage Technology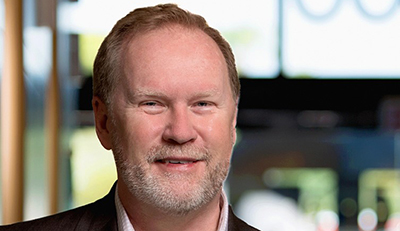 This isn't Harry Gardner's first rodeo. This mortgage technology pioneer has received the MBA Tech All-Star Award twice before.

"It's a real honor to be recognized again," Gardner said. "There are a lot of great people in the mortgage technology space, and I've been lucky enough to be friends with many of them. They are colleagues and friends. I'm honored and humbled and appreciate the MBA Tech All-Star Award."
Gardner serves as Director of Digital Services with ICE Mortgage Technology, Pleasanton, Calif., which includes MERSCORP Holdings Inc., the mortgage industry's national electronic loan registry. He leads MERSCORP's product management, including the MERS® System, MERS® eRegistry and new product development. He also provides eClosing and eVaulting subject matter expertise to guide the development of new product offerings for the Encompass loan origination system and Simplifile.
Gardner has contributed to the mortgage industry for more than 20 years in numerous roles, including Chair of the Board of Directors for the Electronic Signature and Records Association, President of MISMO®, the Mortgage Industry Standards Maintenance Organization, Chair of the MISMO Residential Governance Committee and as a member of its Board of Directors.
Gardner worked at the Mortgage Bankers Association between 2001–the year after MISMO launched–and 2009. While at MBA, he brought together the 40-plus industry participants who hammered out the business and legal framework for a proposed national eNote registry, which is now the widely adopted MERS eRegistry with more than 1.5 million eNotes registered.
More recently, Gardner helped identify an industry pain point and led the MERS® RON (remote online notarization) Video Storage service from concept to close in less than 12 months. The MERS RON video storage service provides a secure way to store, provide access to and retrieve copies of RON video recordings for notaries, RON platform providers and other authorized parties during post-closing review and loan purchase as well as downstream life-of-loan events.
"The MERS RON video storage service can provide a central point of storage and access for all video recordings that result from a RON eClosing to make it easier for originators, investors and servicers to track these artifacts throughout the life of the loan," Gardner said. "It also supports a key compliance requirement: RON providers are required to save them according to state law. This service will store videos for the life of the loan plus seven years, helping to bring new level of confidence and transparency for RON eClosings."
Gardner noted RON eClosing videos are indexed and tracked by the Mortgage Identification Number registered on the MERS System and/or the MERS eRegistry, which allows for clear indication of whether a loan was closed using RON and even whether the notary was in-state or out-of-state for each loan. "It can also streamline the annual loan audit burden for originators who are seller/servicers to Fannie Mae and Freddie Mac by providing a single location to find all RON videos for their loan audit list," he said.
One thing that has changed since Gardner last earned an Tech All-Star award is the status of paperless mortgages. "Certainly, the conversation is different today," he said. "Lenders have reached a point where they see that offering eClosing–especially RON eClosing–is a real competitive differentiator. The MBA Technology Solutions Conference is in Las Vegas this [week], so I think it's appropriate to call that 'table stakes.' Lenders need to be competitive with their peers, so if one lender is offering a full eClosing with RON where the borrower never has to leave home and can review their documents ahead of time and another lender says the borrower must visit a title office to sign everything in ink, I think lenders see the competitive advantage to eClosing."
The rest of the world has gone paperless and has moved to eSignatures, Gardner noted. "Consumers are accustomed to using that at a level that grows every year," he said. "I think the mortgage industry will get more digital over time." Broad investor adoption has always been crucial to getting more lenders on board because someone must be willing to buy your eNotes, Gardner said. "But we've come a long way," he added. "Looking at the entities that are active now with the MERS eRegistry and can accept eNotes, the list of investors and servicers and warehouse lenders has grown tremendously in the last few years. So, it's getting better. There is still more to go, but it's certainly been a good trend."
ICE Mortgage Technology Vice President of Product and Corporate Development Christopher McEntee has been active in MISMO for nearly a decade and currently serves as Vice Chairman of the MISMO Board of Directors. He met Gardner at a MISMO Summit in 2014.
"We struck up a conversation and found we were trying to address the same pain points," McEntee said. "Intercontinental Exchange was looking to get into the mortgage market and Harry was a well-known expert. It was great to discuss with him why this process was still done on paper and what could be done to change it."
McEntee noted Gardner took a leadership role early on, "and he has been consistently supportive of MISMO through the work groups as well as contributing his leadership and product management skills," he said. "Harry has championed things like SMART Docs and collaborating with the GSEs. He's a thought leader and a well-respected 'go-to guy.' That's the way he performs in the industry."