MBA Advocacy Update Sept. 24, 2021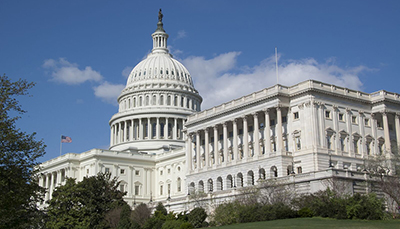 Bill Killmer bkillmer@mba.org; Pete Mills pmills@mba.org.
On Tuesday, House lawmakers passed a continuing resolution along party lines, sending the measure to the Senate for a vote ahead of a Sept. 30 government funding deadline. Meanwhile, MBA led a coalition of associations urging Congress to raise the federal debt limit to avoid roiling financial markets. And MBA's Research Institute for Housing America released a report that examines climate change's growing impact on housing and housing finance.
1. House Passes Stopgap Government Funding Bill; Senate Prospects Dim
On Tuesday, House lawmakers passed a continuing resolution along party lines, sending the measure to the Senate for a vote ahead of the Sept. 30 government funding deadline. The stopgap funding bill, which includes a debt ceiling hike past next year's midterm elections, is not expected to earn enough support in the 50-50 Senate in its current state amid GOP opposition to the debt limit provision, as well as other extraneous issues relating to foreign policy and immigration.
Why it matters: The CR, which includes a short-term extension of the National Flood Insurance Program authorization, would extend government funding to December 3. Additionally, the bill suspends the debt ceiling through December 16, 2022, and provides $28.6 billion in funding for emergency disaster relief.
What's next: Following House passage, Senate Appropriations Committee Ranking Member Richard Shelby (R-AL) and Senate Minority Leader Mitch McConnell (R-KY) released a counterproposal that would keep the new funding deadline of December 3, but strips the debt ceiling language with hopes that Democrats use the budget reconciliation process to address this pressing issue. Both parties are entrenched in their respective positions on the debt ceiling, raising the possibility of a federal government shutdown next week. Various federal agencies are revising guidance regarding their operations should a shutdown occur, and MBA will provide members with relevant updates as necessary.
For more information, please contact Borden Hoskins at (202) 557-2712 or Alden Knowlton at (202) 557-2741.
2. MBA Leads Joint Trade Letter Urging Action on the Debt Limit
Last week, MBA led 13 trade associations in a coalition letter urging congressional leadership to raise the statutory debt limit as soon as possible to avoid roiling the financial markets and other important sectors of the economy unnecessarily. On August 1, the United States reached its statutory debt limit, leading the Treasury Department to begin taking "extraordinary measures" to meet the country's financial obligations. Treasury Secretary Janet Yellen has warned that the federal government will run out of the ability to obtain new loans at some point in late October.
Why it matters: Given the more than $8.6 trillion in mortgage debt backed by the federal government through Fannie Mae, Freddie Mac, Ginnie Mae and other federal agencies, the housing and real estate markets are particularly susceptible to any instability stemming from concern about the United States meeting its financial obligations.
What's next: The House-passed CR is expected to fail in the Senate and force Democrats either to pass a "clean" CR that does not include the debt ceiling and find another vehicle through which to address the debt limit, or to create a separate reconciliation bill that is narrowly focused on lifting the debt limit. A separate reconciliation effort would take additional floor time and negotiations, which could further imperil or delay efforts to pass the ambitious White House infrastructure agenda.
For more information, please contact Borden Hoskins at (202) 557-2712 or Alden Knowlton at (202) 557-2741.
3. House Passes National Defense Authorization Act; Includes MBA-Supported RON Provisions
On Thursday, the House passed the National Defense Authorization Act, legislation that funds the Department of Defense and other military operations of the government. MBA worked with members of the House Armed Services Committee, as well as House leadership from both parties, to help ensure that language to create minimum federal standards for the use of remote online notarization (the bipartisan, bicameral SECURE Notarization Act of 2021) was included as part of this "must-pass" legislation. Additionally, Representative Ed Perlmutter (D-CO), a senior member of the House Financial Services Committee, successfully included his SAFE Banking Act of 2021 within the bill. Both provisions were incorporated through the amendment process and adopted by voice vote (unanimous consent).  
Why it matters: The SECURE Notarization Act of 2021 creates a federal standard for the use of remote online notarization while complementing the various existing state laws. Industry advocates connected with hundreds of House and Senate offices about this issue at MBA's virtual National Advocacy Conference and through the Mortgage Action Alliance platform as the bill worked its way through the legislative process. The SAFE Banking Act of 2021 provides a safe harbor for financial institutions to bank and lend to legal cannabis and cannabis-related businesses.
What's next: The Senate is likely to consider its own version of the NDAA in the coming months. After Senate passage, the two chambers will conference on a final bill that ultimately will head to President Joe Biden's desk for enactment. MBA will continue advocating for the inclusion of the RON provision in the Senate legislation. For the latest developments on MBA's efforts to pursue RON laws in the states, please visit www.mba.org/RON.
For more information, please contact Borden Hoskins at (202) 557-2712 or Alden Knowlton at (202) 557-2741.
4. MBA Submits Comments on FHA Handbook Servicing Updates
On Thursday, MBA submitted comments to the Federal Housing Administration in response to its July revision to Section III of the FHA Single-Family Housing Policy Handbook 4000.1 (Servicing and Loss Mitigation). The comment letter provides feedback and requests clarification on numerous issues highlighted by MBA members since the release of the Handbook revisions – specifically, FHA's lack of authority to require mortgagees to self-curtail interest on claims that miss deadlines other than the conveyance deadline. The comments also request that FHA clarify details concerning property preservation allowances, as well as vacancy determinations.
Why it matters: The FHA Single-Family Housing Policy Handbook provides loss mitigation guidance to servicers with respect to FHA-insured mortgages.
What's next: The MBA Loan Administration Committee will hold its next call on Wednesday, Sept. 29, from 2:00 – 3:30 p.m. ET. The Committee will receive a servicing policy update from representatives from FHA, as well as the Department of Veterans Affairs and the Federal Housing Finance Agency. To be added to the Committee, please reach out to Darnell Peterson.
For more information, please contact Darnell Peterson at (202) 557-2922.
5. Ginnie Mae Announces Cessation of New LIBOR-Indexed Multiclass Securities
On Tuesday, Ginnie Mae announced that, effective with January 2022 transactions, it no longer will permit issuance of new Multiclass Securities indexed to the London Interbank Offered Rate. Exceptions to the Ginnie Mae policy will be made for re-securitizations of existing LIBOR-indexed classes that do not increase the total unpaid principal balance of these classes.
Why it matters: This policy reflects the broad mandate from a variety of regulators that financial institutions cease origination or issuance of new financial products that are indexed to LIBOR by year-end 2021. While most tenors of U.S. Dollar LIBOR are expected to be published through June 30, 2023, the extended timeline is meant to foster a smooth transition for the servicing of existing LIBOR-indexed products – not to permit continued use of LIBOR for new originations or issuances.
What's next: MBA will continue to provide resources to members as they navigate the transition to alternative indexes in the mortgage market.
For more information, please contact Dan Fichtler at (202) 557-2780.
6. MBA RIHA Climate Change Report: Mortgage Industry Needs to Improve Risk Management Measurements
Climate change triggered by global warming will continue at an unpredictable pace and will add stress to the complex system of allocating risks across housing and housing finance stakeholders. That is according to a new research report released last week by MBA's Research Institute for Housing America.
What it says: The Impact of Climate Change on Housing and Housing Finance, RIHA's study, is divided into four sections: what is known so far about climate change; the likely impacts to housing and housing finance; strategies that can mitigate climate change or adapt to the part of climate change that cannot be averted; and the ways firms in housing and housing finance can articulate and measure their exposure to climate change.
Sean Becketti, author of the report and an industry veteran with over four decades of mortgage finance experience, said, "The mortgage industry will not be spared by the growing impact climate change is having on the environment, governments, and individuals. The physical destruction caused by flooding and other extreme weather events will continue to influence the behavior of portfolio lenders, the GSEs, the federal government's FHA/VA programs, and mortgage investors. Climate mitigation efforts are necessary to slow the adverse effects of global warming, and better and more standardized predictors of environmental risks are needed to make housing and housing finance more resilient."
For more information, please contact Eddie Seiler at (202) 557-2739.
7. Upcoming MBA Education Webinars on Critical Industry Issues
MBA Education continues to deliver timely programming that covers the spectrum of challenges, obstacles and solutions pertaining to our industry. Below, please see a list of upcoming webinars – which are complimentary to MBA members:
Capital Markets Update and Outlook for CMBS and Balance Sheet Lending – September 29
Introduction and Walkthrough of MISMO's Enhanced Logical Data Dictionary (LDD) – October 6
Regulation F: Overview & Considerations – October 6
Increasing Profitability: Transitioning to Delegated Underwriting and Improving Loss Mitigation – October 7
ESG 101: How ESG Is Changing Commercial Real Estate – October 12
Are We There Yet? CRE and LIBOR Transition Check-Up – November 4
MBA members can register for any of the above events and view recent webinar recordings. For more information, please contact David Upbin at (202) 557-2890.