MBA Opens Doors Foundation Kicks Off 2022 Fundraising Season with $3.2 Million in Donations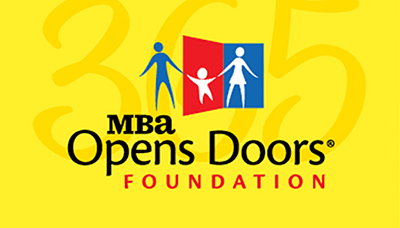 The MBA Opens Doors Foundation announced it received $3.2 million in corporate and individual donations during its first two days of the FY 2022 fundraising campaign, September 8-9.
Proceeds will support the Foundation's mission of helping vulnerable families with critically ill or injured children stay in their homes while their child is in treatment.
"Our Families. Our Homes. – the theme of our 2022 Annual Campaign. These words resonate deeply for all of us," said Debra W. Still, CMB, President and CEO of Pulte Financial Services and Chairman of the Opens Doors Board of Directors. "It is what we do every day, and what inspires our most important fundraising event of the year. I am incredibly proud of the energy, passion and generosity of the real estate finance community and the Mortgage Bankers Association. And I am incredibly grateful that with the support of MBA and its members, we will continue to help families stay in their homes while they care for their sick or injured child."
During the first two days of the fundraising campaign, Opens Doors surpassed its $2.5 million fundraising goal with $2,713,500 in corporate pledges along with $487,000 in personal pledges, for a total commitment of $3,200,500 in support. Eleven companies each pledged $100,000 or more in support of the foundation: CMG Financial; SWBC Mortgage; Radian Guaranty Inc.; Amerihome Mortgage; Arch MI; EPM; Freedom Mortgage Corporation; PennyMac Financial Services, Inc.; PrimeLending; Radius Financial Group Inc.; and Walker & Dunlop LLC.; while 17 individuals pledged $10,000 or more to the campaign. An additional 42 companies pledged between $50,000 and $75,000 in support. In total, nearly 100 companies and individuals from the real estate finance community donated to the campaign.
Corporate and individual donors who commit to supporting the Foundation at the $25,000-or-more level before October 10 will be recognized at MBA's 2021 Annual Convention & Expo, taking place in person October 17-20 in San Diego.
"Every day we hear from families who need our help and every day that call is answered by the good people of the real estate finance industry," said Deborah Dubois, President of the MBA Opens Doors Foundation. "Funds from our 2022 campaign will help more than 2,250 families with critically ill children stay in their homes. Every bit of the $3,200,500 raised will go to families in need of housing support, and that's because MBA pays 100% of the Foundation's administrative and operational expenses."
More than 8,400 families from all 50 states, the District of Columbia and Guam have received housing assistance from Opens Doors since 2011. In 2021, Opens Doors launched its Pandemic Relief Program, doubling its support to families in need. Grants up to $2,500 are made monthly to qualified families.
For more information about the MBA Opens Doors Foundation, click here.