October Consumer Confidence Increases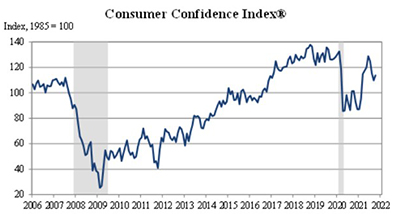 The Conference Board, New York, said its October Consumer Confidence Index increased for the first time in four months.
The Index now stands at 113.8, up from 109.8 in September. The Present Situation Index—based on consumers' assessment of current business and labor market conditions—rose to 147.4 from 144.3 last month. The Expectations Index—based on consumers' short-term outlook for income, business, and labor market conditions—improved to 91.3 from 86.7.
Lynn Franco, Senior Director of Economic Indicators with The Conference Board, said consumer confidence improved as concerns about the spread of the Delta variant eased. "While short-term inflation concerns rose to a 13-year high, the impact on confidence was muted," she said. "The proportion of consumers planning to purchase homes, automobiles and major appliances all increased in October—a sign that consumer spending will continue to support economic growth through the final months of 2021."
The report said consumers' appraisal of current business conditions was mixed in October, with 18.6% of consumers saying business conditions are "good," down from 19.1%. On the other hand, 24.9% of consumers said business conditions are "bad," down from 25.3%. Consumers' assessment of the labor market was moderately more favorable; 55.6% of consumers said jobs are "plentiful," down from 56.5%. Conversely, 10.6% of consumers said jobs are "hard to get," down from 13.0%.
The report said consumers' optimism about the short-term business conditions outlook was mixed in October, with 24.3% of consumers expecting business conditions will improve, up from 21.7%. On the other hand, 21.1% expect business conditions to worsen, up from 17.6%. Consumers were more optimistic about the short-term labor market outlook; 25.4% of consumers expect more jobs to be available in the months ahead, up from 21.3%. 18.3% anticipate fewer jobs, down from 19.9%.
Consumers were more positive about their short-term financial prospects; 18.7% of consumers expect their incomes to increase, up from 16.9%; 11.3% expect their incomes will decrease, virtually unchanged from 11.4%.
"A pickup in buying intentions suggests consumers are willing to spend despite rising inflation, or perhaps, because they believe prices will be even higher in the future," said Tim Quinlan, Senior Economist with Wells Fargo Economics, Charlotte, N.C. "While intentions do not always lead actual spending patterns, at face value consumer goods demand appears to remain robust. Buying intentions suggest consumers are willing to spend despite rising inflation or perhaps because of it."