Commercial Real Estate Prices Rise Again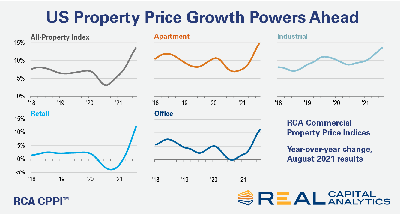 Real Capital Analytics, New York, reported all four major commercial real estate types posted double-digit annual price growth in August.
The RCA All-Property Index rose 1.5 percent during the month, yielding a 13.5 percent year-over-year increase, RCA Senior Analyst Shane Omundsen said.
Apartment asset prices posted a 14.7 percent annual gain, the fastest annual growth rate since before the Great Recession. Prices for the sector increased 1.6 percent from July, RCA reported.
Industrial prices climbed 13.6 percent year-over-year, while retail prices grew 12.1 percent. "While the retail sector in general has suffered during the COVID era, some segments such as grocery-anchored centers have remained buoyant," Omundsen noted.
The RCA office sector index accelerated in August to an 11.2 percent year-over-year growth rate, fueled by suburban office prices, which increased 14.8 percent. Central business district office prices actually posted a slight annual decline in August.
Peter Rothemund, Co-Head of Strategic Research at Green Street, Newport Beach, Calif., said commercial real estate has gone from a property pricing recovery "to a full-on bull market." He noted only hotel, mall and office properties remain below pre-COVID price levels. "Everything else is above, or well above, where it would have traded a year and a half ago," he said. "Industrial and apartments are getting the lion's share of attention."
CoStar, Washington, D.C., said CRE transaction volume reached a record level in August. The number of transactions year to date exceeds last year's figure by 66 percent and is 29 percent higher than the first eight months of 2019. The data firm said this trend points to a return to "typical liquidity conditions."
Absorption could reach a three-year high for the 12 months ending in September, CoStar noted. Net absorption in office, retail and industrial properties combined could increase to 333.6 million square feet, the highest figure since September 2018. "Absorption is expected to be weighted slightly toward the general commercial segment, but both the general commercial and the investment-grade segments are experiencing strong demand," the report said.