The Week Ahead Nov. 29, 2021: Three Things to Know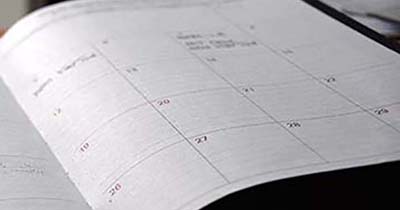 Good morning, and welcome back! We hope you had a wonderful Thanksgiving holiday. Here are three things to look out for this week:
First, Housing and Economic Reports. It's time for the busy end-of-month roundup of reports. MBA this week, like clockwork, releases its Weekly Mortgage Applications Survey on Wednesday, Dec. 1, with commentary and analysis from MBA Associate Vice President of Economic and Industry Forecasting Joel Kan.
This week also features three reports on November employment: The ADP National Employment Report (Wednesday); Initial Claims (Thursday) and the Employment Situation from the Bureau of Labor Statistics (Friday). On the latter, MBA Chief Economist Mike Fratantoni will provide commentary and analysis in the Monday, Dec. 6 edition of MBA NewsLink.
Other reports this week:
—Monday: Pending Home Sales Index; Dallas Fed Manufacturing Survey
—Tuesday: S&P CoreLogic Case-Shiller Home Price Indices; Consumer Confidence
—Wednesday: ADP National Employment Report; Construction; Institute for Supply Management Manufacturing Index
—Thursday: Initial Claims
—Friday: Employment Situation; ISM Non-Manufacturing Index; Manufacturing, Shipments and Orders
Second, Congress. Time is winding down for the first session of the 117th Congress, and much remains on the table. While the House has passed the Build Back Better Act, the Senate has yet to approve the bill—if it passes at all. Senate Republicans remain opposed to the bill, so President Biden and Senate Majority Leader Chuck Schumer, D-N.Y., need the support of Sens. Joe Manchin, D-W.Va.; and Krysten Sinema, D-Ariz.—and he doesn't have it, yet.
Additionally, Congress still has to contend with its fiscal 2022 budget package. The government remains funded through Dec. 9; without an agreement (or yet another extension), some essential government services could shut down at midnight on Dec. 10.
Treasury Secretary Janet Yellen and newly nominated Federal Reserve Chair Jerome Powell visit Capitol Hill this week to discuss the Administration's progress on implementing the CARES Act.
Yell and Powell visit the Senate Banking Committee this Tuesday, Nov. 30. The hearing, CARES Act Oversight of Treasury and the Federal Reserve: Building a Resilient Economy, begins at 10:00 a.m. ET in Dirksen Senate Office Building room G50 and can be accessed online here.
On Wednesday, Dec. 1, Yellen and Powell shift to the House Financial Services Committee. The hearing, Oversight of the Treasury Department's and Federal Reserve's Pandemic Response, begins at 10:00 a.m. ET in 2128 Rayburn House Office Building and can be accessed here.
For more information about the House and Senate, visit www.house.gov and www.senate.gov, respectively. For more information about upcoming hearings in the Senate Banking Committee, click https://www.banking.senate.gov/hearings. For more information about upcoming hearings in the House Financial Services Committee, click https://financialservices.house.gov/calendar/?EventTypeID=577&Congress=117.
Third, MBA Conferences. Here is a list of upcoming MBA Conferences:
Hyatt Regency Clearwater, Fla. Beach Resort and Spa
Grand Hyatt Nashville
Manchester Grand Hyatt, San Diego
Hyatt Regency Orlando
Ritz-Carlton, Bachelor Gulch, Avon, Colo.
The Bellagio Las Vegas
Renaissance Washington, D.C.
Renaissance Washington, D.C.
Marriott Marquis New York
JW Marriott Los Angeles L.A. LIVE
Intercontinental Miami
For more information, click the links above or visit https://www.mba.org/conferences-and-education/conferences-and-meetings.
For the most up-to-date information regarding legislative activity at the state and local level, visit the MBA State Legislative Database here.
For information about MBA Education events, visit http://www.mbaeducation.org.
For information about the National Association of Minority Mortgage Bankers of America (NAMMBA), visit https://www.nammba.org/.
Enjoy the week!