(The New Normal) Pooja Bansal: Eagerly Awaiting the End to Remote Work—At Least For Us
Pooja Bansal is the SVP of human resources and communication at NewDay USA, where she oversees employee engagement and plays a key role in developing programs and systems for the rapid hiring, selection and development of new employees. Prior to joining NewDay USA, she served as AVP at Barclays US and as a technology consultant at SEI Investment Co., where she ran several initiatives to promote women into technology and leadership roles. She has a B.Tech in Information Technology from Kurukshetra University, India, and recently finished her MBA from The Wharton School, University of Pennsylvania. Reach out to Pooja at PBansal@newdayusa.com.
(This is part two of a four-part series, "The New Normal," in which STRATMOR Group Senior Partner Garth Graham, NewDay USA Senior Vice President Pooja Bansal, Clarifire CEO Jane Mason and Superus Careers CEO Larry Silver examine how industry employment changed last year and the pros and cons of moving forward with in-office, work-from-home or hybrid platforms.)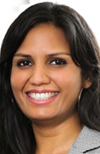 Over the past several months, we've seen a growing body of evidence that the COVID-19 pandemic is leading to a permanent shift toward remote work. For example, a recent McKinsey survey of 800 corporate executives found that after the pandemic, nearly 40% expect their employees in remote services to continue working two or more days a week away from the office.
Surely, there are many companies in our industry who are planning to do the same. We're not one of them and because of that, the pandemic was a big challenge for us.
The Slow Return
We were able to perform at a high level during the pandemic—even growing our team by 600 employees. However, our company culture revolves around teamwork and our high energy, highly competitive work environment we've cultivated at our Baltimore offices. It's simply not possible to recreate that same type of environment when people are working from home and can't have those water cooler conversations in-person.
Suffice to say, almost everybody at NewDay is extremely eager to get back into the office. But until certain things change, most of us still have to wait.
In June, many Maryland businesses were allowed to reopen, but there were restrictions. State law at the time limited the capacity of our offices to just 25%, so only our team members who truly needed to be in our offices were able to return. Most who did were new hires, and because we were hiring at a fast pace, we had to train people quickly. Even though we have moved most of our training courses online, the best way to train is still in person.
We introduced certain programs, so our new hires received the help they needed. For example, we started a mentorship program to give our new people extra handholding during their training period. Every new team member now has mentor who is available to them to answer any questions they have.
Keeping People Safe
For those who did return to the office, we started weekly on-site COVID testing. Every Monday morning, a crew of nurses arrive at our headquarters and our employees sign up for testing. They all receive the test results the next day. We also provide employees with 10-minute, self-administered rapid testing as an additional layer of precaution. We clean and disinfect the building constantly and that work will likely continue even after we're able to get everybody back into the office.
Currently, state law limits our offices to 50% capacity. But as we enter the spring home buying season, our people are more anxious than ever to come on site, especially those who have been with the company less than a year, who haven't been able to get the true NewDay USA experience. Our managers are constantly getting requests from their teams who want to come back to the office.
In the meantime, we're strongly encouraging everybody at the company to get vaccinated as soon as they meet eligibility guidelines.
Unfortunately, most of our people are younger and most of our new hires are freshly out of college, so they don't qualify for the vaccine yet. And even when they do get vaccinated, they're still required to follow our safety protocols. They no longer have to get tested every week, but they still need to wear a mask and be socially distant if they're in the office until everyone gets vaccinated
Eagerly Awaiting Normal
A big reason we're eager to get everyone back to the office is that there are more distractions for them as different sectors of the economy reopen. Early in the pandemic, there was nowhere to go and nothing to do—most of the people weren't even going out for groceries—so it was easier for folks to stay home for work. But now, people can meet their friends and families and do other activities outside the house, so it's been difficult to keep up with that engagement level.
Throughout the pandemic, we held team meetings and online happy hours via Zoom in addition to health and wellness webinars, so our people could engage with each other and keep their minds focused on work. Early on, we were seeing 90 to 95% attendance at our webinars. But now that nearly 40% to 50% of our people are back in the office, it's becoming challenging to engage teams on similar online platforms.
For the foreseeable future, we'll continue to let certain employees work from home who may be caring for family members or have other safety reasons. But most of our people just want to return to the office. We've always had so many fun and offbeat workplace activities, and people truly miss those incredibly good times. Our motto is to work hard and play hard, and it's difficult to do either when half of your people are in the office and the other half are at home.
We do expect some permanent changes as a result of the pandemic. For instance, we started recording all our training seminars so anyone can refer it on a later day, and we'll continue doing so in the future. We may also be more open to hiring talent in different states so we can help even more veterans achieve homeownership and gain financial freedom.
The pandemic brought good changes, too. From a business continuity standpoint, we're much better prepared for a future crisis. But we're not going to make any changes at the expense of our culture, because our culture is what defines us, and it's what made us so successful.
So, while the pandemic may be changing the nature of work for many if not most businesses, it hasn't for us. And candidly, we wouldn't have it any other way.
(Views expressed in this article do not necessarily reflect policy of the Mortgage Bankers Association, nor do they connote an MBA endorsement of a specific company, product or service. MBA NewsLink welcomes your submissions. Inquiries can be sent to Mike Sorohan, editor, at msorohan@mba.org; or Michael Tucker, editorial manager, at mtucker@mba.org.)